26 May 2006 Time
: 00:57
SOUL PATROLLLLLLLLL!!!!!!!
Mwahhhhhhhhhhhhhhh Taylor Hicks! American Idol Season 5 Winner!
Congratulations!
SOUL PATROLLLLL!!!!!!!!
Congratulations to McPhee too, girl. You did yerself and your mom and dad proud.
Still...they're not Yamin :(.
Elliot Yamin - got my eyes on him since the auditions.
There is something awfully endearing, awfully sweet about this guy...the guy who didn't let disadvantages get between him and his dream.
"I was lost for a while...I needed to go somewhere...I just didn't know how to get there.."
(To my memory that is..)
"Ladies and Gentlemen...
MY
Elliot Yamin..." - Mama Yamin...
I watched him as he jumped in disbelief and joy at Simon Cowell's compliments...his laughter, his excitement.
I watch him grow from a goofy, "maybe" underdog to the man of confidence. From the one happy to find himself on stage, to the one who owns the stage.
The one who was so shaky in theatre eliminations, to the last person to be eliminated before the finale - but that don't make you a loser, hooboy, hell no.
You've come a long, long, long way, Elliot.
And now, not only you can now believe in yourself and who you are, and who you've become, the world are believing this with you, for you.
When he sang
I Don't Wanna Be
and...
Home
. Different from Buble, though...a rougher, gruffier version. And fuk, I
LOVE
this song, Buble or Yamin.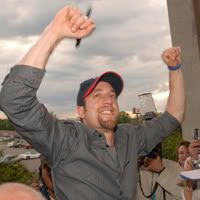 But, Yamin, you're home.
In my heart, you stand as
my
American Idol.