2 Jan 2007
***Update: This blog was written on 28th December but photos couldn't be uploaded online, hence it took this long to post it. Patience needed to read it. Of course, you should also hop over to Gianne's blog to check out her version of the trip, when she blogs about it.***
I'm back. From Singapore (wait, what, wasn't she there in October?)
once again
. And uh huh I
was
there in Oct, and was kind of reluctant to return for Christmas but alas, circumstances would have it that Bangkok plans had to be shelved and replaced with Singapore. And I went with Gianne, who also happened to be one of my oldest friends. Nearly 14 years and still counting, yo.
I'm not sorry though. Stayed 3 nights the last time, and this time, we planned for 4 nights and ended up staying 5 nights.
It. Was.
FUN
!
Planning wasn't really in the agenda this time though, I looked through maps and routes the last time, was planning where to go and how and what and...well, couldn't be damned to this time. I was also thinking, let Gianne do the homework this time, heh.
Part I
For some funny reason, my mom, the savvy, weathered traveler, became suddenly annoyed at the fact that I bought tickets for buses departing from Puduraya rather than Imbi this time. What makes it kind of exasperating though, was that she nitpicked on me the
morning
as we leave the house. Lucky for me, I see the humour in the situation. Else we'll be arguing all the way there.
If she's to be believed at all, Puduraya is a horrific, dangerous place with touts targeting and chasing and shouting as they follow you and pickpockets eye-locking onto your precious money and electronics – well, not that Puduraya is not like that, but it's just not as scary as she described it.
I guess one thing is the same with traveling everywhere – vigilance. A thing I did not practice much on this trip, I must admit.
We saw the floodings in Johor down south, it look pretty terrible. Water was so close to the highways, anymore higher we will be floating across North-South Highway instead of driving on it. Unluckily we can't get any photos, the bus was moving too quickly. And by time we reached Larkin, I was near starkin' mad. My butt's numb, I was cold and bored and want to reach Singapore as fast as it was possible.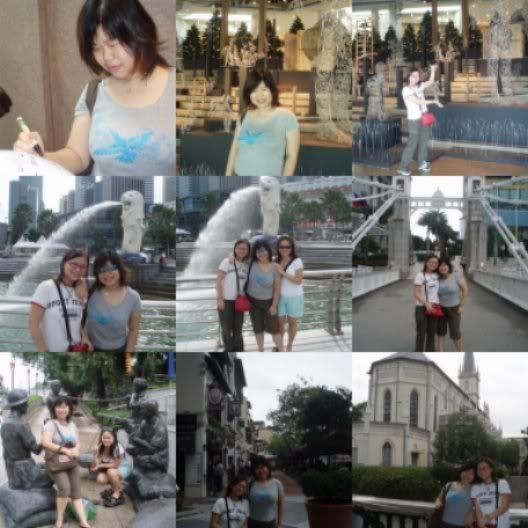 Bits and pieces of Day 1
We checked into Inn Crowd where I stayed back in October, and went to have our lunch at Tekka Mall. Then we went to meet Shirley at City Mall MRT station where we did the obligatory tour – Esplanade, Merlion, Fullerton Hotel, Cavenagh Bridge, Stanford Raffles' statues, Supreme Court buildings and Boat Quay and Clarke Quay. This time, we even threw in Chijmes (try pronouncing THAT! Hahah it's actually "Chimes"). By the time we got back my legs are aching. Sometimes I wonder is it because we walked too much there...or too little here in KL.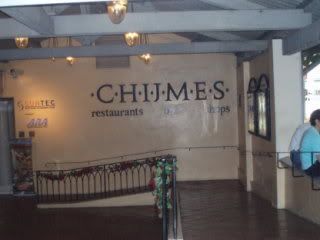 Chijmes
Gianne's aunt invited her to Christmas dinner and my dad asked me to dine with him so we went our separate ways but I was seriously tired so after the Korean dinner (which was by the way, really good, and only S$25, without conversion you probably pay about RM50-60 for the same meal we had in Malaysia) and since Gianne wasn't back yet, was ready to call it a night at 11pm. I actually fall asleep before midnight! But these 2 Indonesian girls were packing and made hella noise so I was awaken and when Gianne came back, we headed to the main building and surfed there a little, and just hang out.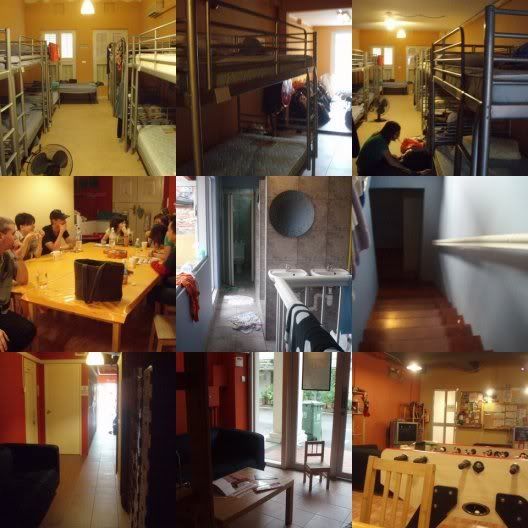 The hostel.
Around 4.30am when everyone's asleep, few people came in noisily and this girl across from me on the top bunk started throwing up
on her own bed
.
Pui Yee's mind:
Hope that not what I think it is
Retching.
Pui Yee's very awake mind:
Yikes
*sniff sniff*
Pui Yee's confuzzled mind:
But, but, but...it
doesn't
smell!
She went on and on and on and then stopped and someone climbed off his bed to check on her with a flashlight.
"She's breathing?"
"Yeah, yes she is"
He then ducked down to the guy sleeping at the bottom bunk, who's still snoring.
"Buddy, are you wet?"
"Huh? Huh no"
Not many people were pretending to be asleep at this point.
Peace for a moment -- then... *drip drip drip*
Liquid started dripping from the top bunk. Bottom bunk guy tugged his mattress out of the way, looked for a new bed and settled at an empty one end of the room.
Peace reigns.
I went to the loo, and heard someone hovering at the door and when I opened it some guy barged in, unzipped and peed. And I barely made it out in time. He left the door open.
When I settled back into bed, guy-who-peed came in.
"That's my bed! Why are you in my bed?"
Bottom-bunk guy is now bunkless.
Next morning, girl-who-threw-up-in-her-own-bed-and-then-slept-in-it moved out (to the main building and avoided all of us) and we saw the staff scrubbing the mattress down and the stains looked like a murder happened on it.
Her puke doesn't smell! That remained the topic of talk for the next couple of days.
Part II
Next morning we followed a tour to a Chinese temple in Toa Payoh, which is informative about overseas Chinese and their social, economic and educational evolution in South East Asia and Singapore. We were guided by a volunteer anthropologist.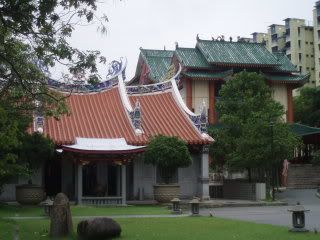 Temple in Toa Payoh
After the temple, we walked around Toa Payoh residential area trying to get to the bus stop and snapped pics of the flats. And schools.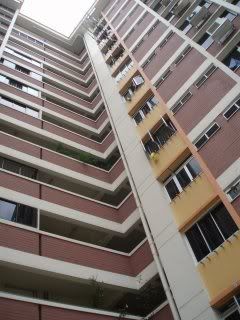 Fancy living in pigeon holes?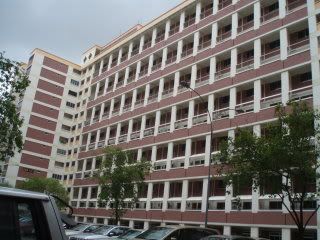 Singapore surburbs are organized, clean, compartmentalized and in some ways, lacking in character. It's all flats and playgrounds and schools. It's boring. It's mundane. Vanilla.
Ah, but vanilla is a good flavour, you say? Well, I don't eat vanilla ice cream unless they come on top of hot waffles or warm choc brownies.
We went to Bugis and was greeted by a HUGE crowd at Bugis Junction. Went to a flea market and then to Arab Street where Gianne wanted to look for cloth.
It was here, in front of Golden Landmark Hotel, she needed to use the toilet. Bad. Took her a while to came out.
We proceeded onto Arab Street and without even looking at the fabric, bent down and told me she needed to use the toilet again. Uh oh.
In front of the same hotel (5 minutes along the street away) she threw me her bag and dashed in. I was getting concerned, however, fabric hunt continued and by chance we walked into a shop where she bought 2 swatches of cloth. Cool. Trip wasn't wasted.
Back to hostel, had a shower and she skipped dinner.
Oh and I tried to help an Italian guy book a ticket Batam-Jakarta-Bali because the Indonesian agent on the phone can't speak English and evidently the Italian can't speak Indonesian. Grief to the staff, they told us to call back. He said he been tryin' since 4pm and he quit trying at 9pm when their offices close. Without luck.
I pitied him; it was a fuckin' struggle trying to purchase a ticket from people who aren't keen on selling you their services.
Gianne and I went to Clarke Quay for a walk and found a bar named morbidly
Clinic
. Their staff wear scrubs or black shirts with skeletons printed on it. Chairs were shaped like hospital beds and tables like tablets. And they had hospital curtain divider and a post-mortem room as the reception. It. Was. REALLY. Cool.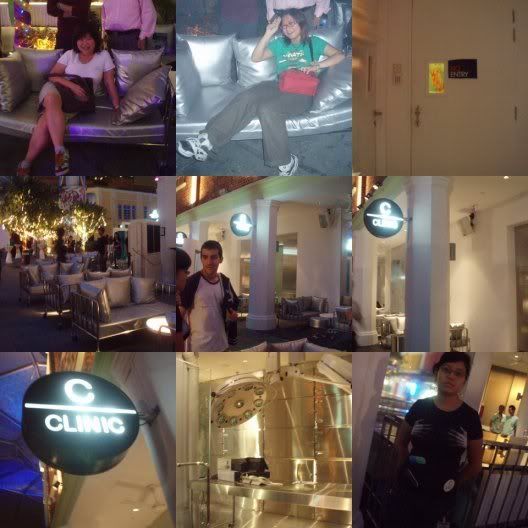 Clinic.
When we went back, we chatted with an Indonesian Chinese named Freddy. At 1am we got kicked off and headed to the other building when we said g'night to the people outside smoking and drinking, and stayed back a while to talk with them.
There were 2 guys and a girl and a drinking place. Turned out they were the people coming in late the last night. The girl said "That wasn't me!" quickly and we all laughed. They're South Africans and we were wondering if they're going to BaaBaaBlackChic for the Christmas Eve party but they heard bad things about the food and asked us if we would join them elsewhere instead.
Part III
Gianne and me followed the 3 South Africans – Kira, Gregg and Keith (who're brothers) – to the Chinese Gardens in Jurong. The garden was huge but not impressive, well, I seen a lot better in China back in May. After spending an entire morning looking at bonsais, we went to Vivo City near Harbourfront for lunch and some shopping.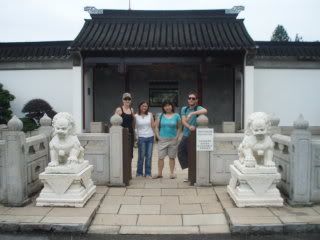 Kira, GN, PY, Keith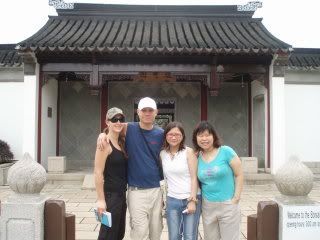 Kira, Gregg, GN, PY
Vivo City is HUGE. It was Christmas Eve. The crowds was *checks for superlative* immense/massive/gargantuan/epic/colossal/astronomical. It was like Midvalley and KLCC has been merged there, in the tip of that small island of Singapore, along with its Raya weekend crowds.
There was barely standing space, the foodcourt's filled to the brim (we can't even find a single, unoccupied chair) and we had to dodge/avoid/skip/hop around people, strollers, objects and shops. One usual thing though, high-end shops remain quiet. Tells you something about our fellow Singaporeans eh?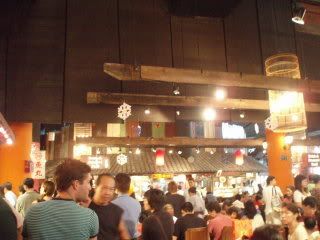 The very packed, very full, very noisy, very old-style,
Monsters Inc
inspired and Chinese influenced food court.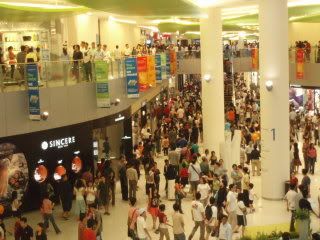 Vivo City – half of Singapore must've transported themselves here. Ugh.
Then we went to Funan Mall, went back to hostel, had a beer and a shooter of good stuff called Jagermeifter and then dinner.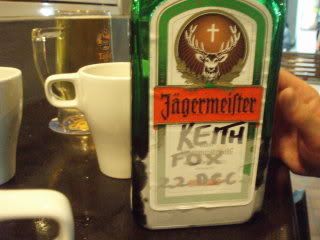 The criminally good Jagermeifter (yea-ger-mice-ter) *May be wrongly pronounced as well, though)
We sat outside there and talked and be merry til they kicked us out at 1am (we got kicked out a lot for some reason).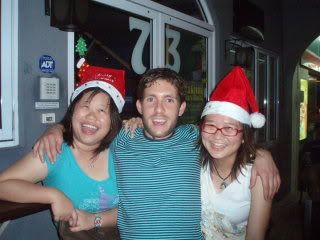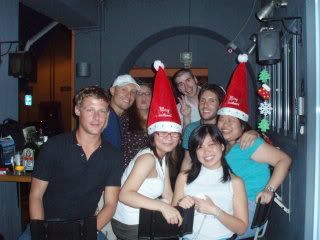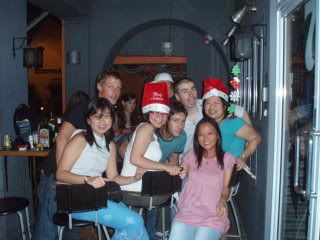 The party headed to BaaBaaBlackChic where we took photos, joked, had drinking games and talked some more. It was fun. I talked to Chris, a Canadian, and this German dude, Steffen, was just goofing off.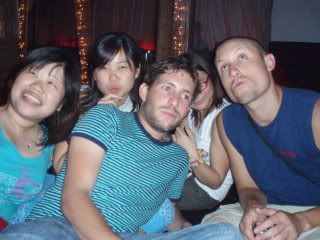 Tryin' to be supermodels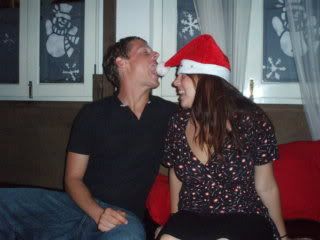 Steffen (drunk) and Gil (not-so-drunk)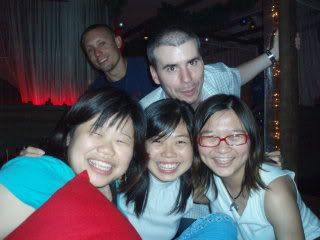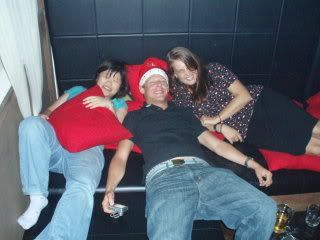 Drunk. Drunk and not-so-drunk.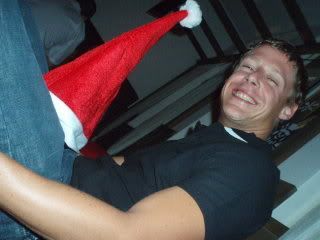 Nice er...
thing
. He
wish
it's THAT big.
We said our farewells to our South African friends... they were headed off to Sydney for the next 3 weeks. But not before Keith does a cartwheel while holding his beer bottle without spilling a drop.
Part IV
The next day, we went to get our bus tickets (we extended another night) Gianne went to IMM Mall to get stuff for her cousins and I hung around the hostel just reading and trying not to fall asleep. Wow to Christmas. How exciting. That evening we went to Night Safari where I am absolutely determined not to miss the Creatures of the Night show and I didn't – except they canceled it midway because it started to rain.
Monsoon sucks! Rain sucks!
Then, Gianne and I were just sitting by the bean bags being bored and I don't know how, but we (me, Gianne, Chris and Steffen) ended up sitting and talking and then played cards.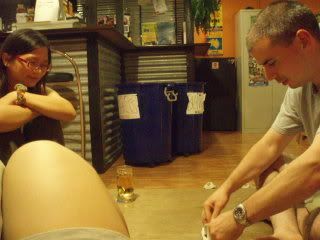 Chris taught us the game which is almost like Chor Dai Dee except it's a LOT simpler and the game don't end with one winner, rather they played til all the positions are determined – President, Vice President, Secretary and Asshole. The asshole have to shuffle and sweep the cards away and swap two of his (his because Chris remains the asshole most of the night and he taught us the game) best cards with the president and the president will give two of his worst to the asshole.
Same thing to the vice president and secretary, except its only one card each way.
Part V
Our last day in Singapore was spent going to Suntec City (in vain hopes to eat cheap Japanese buffet and to look at the Fountain of Wealth but no luck, rain) and then shopped a little. We then walk to Marina Square and looked at the Christmas decors and window shopped. I bought a battery-less flashlight! Then using CityLink Mall (underground, fully-air conditioned shopping, shopping and shopping), we walked back to City Hall MRT and back to hostel.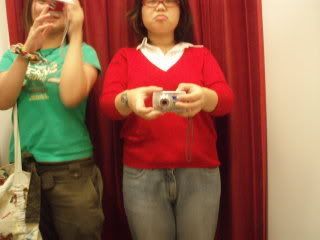 Okay, I flattered myself by wearing a UK 18 sized shirt and GN's glasses, trying to look like Lydia Sum and partly succeeding.
After packing our stuff, taking a shower and chatting a little with a new arrival from Indonesia about the Chinese there, we went back to meet Steffen and then talked about where to go for dinner.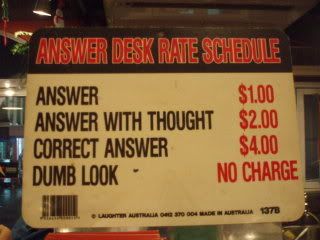 Very funny sign I took while idling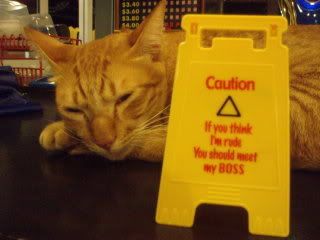 This cat meant business. He bites!
"No foodcourts! No Chinese food! Something western!"
That came from Steffen.
Well, it's my last night, and I'm ready to spend.
We argued the merits of Harbourfront and Clarke Quay and then the 4 of us headed to Clarke Quay (to my insistence).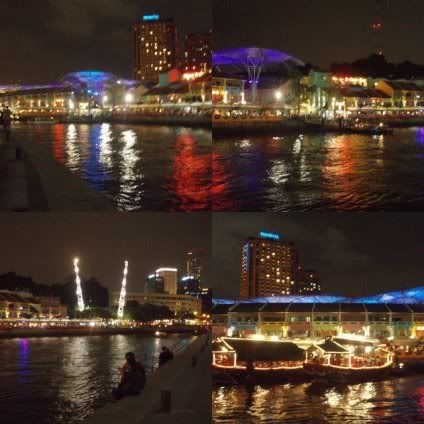 Clarke Quay at night.
And, you know what, it was the opening of some Mardi Gras festival and all the bars and restaurants set up booths and the food was
free
. Not only was it free, it was GOOD. And there were plentiful. Free-flowing alcohol!
Singapore Sling!
Sake!
Beer!
Wine!
Hooters chicken wings! Satay! Tapas! Chillies! Ribs! Steak, kidney and potatoes stew!
Live music!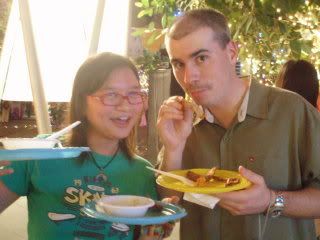 Ehem, note the blissful (and greedy) faces.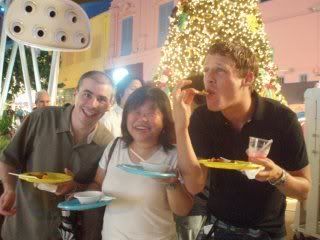 It was a happy,
good
night. We laughed and joked as we walked the narrow way across from Clarke Quay to MRT and we laughed as Chris told Steffen to stick to his side when Steffen got a little hyper and started dancing and trying to jump onto things and it was a steep stairway down to the water without barriers – one wrong move and doink, doink, doink, plop (in Chris' words).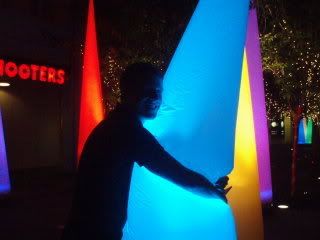 If Steffen says he's not drunk, I guess he's not drunk, then.
The margarita we had hit me when we are at the hostel, I fall asleep at the table with 7, 8 people chatting away. It was like mini-UN meeting.
Part VI
We went back the next day after breakfast. I was getting real tired of the 2 eggs and 2 toast routine, I'm swearing I'm off fried eggs for a couple weeks now. Consumed enough protein and cholesterol to last me ages.
But, you know what, I
MADE
scrambled eggs! Look!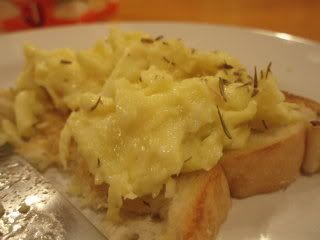 That evening I went out to dinner with my besties and some friends from secondary school. While we all take advantage of the endless pasta day, 3 girls had only what, juice and soup? This is a choice of being fat and happy, or hungry and beautiful.
Tough. I love my food.
But but but...I want to be thin too :(
I watched as they asked for permission from their respective boyfriends to follow us to another bar for drinks and was thinking (kind of in contempt, I must admit) that
my
boyfriend (that sad, unlucky potential guy) will have no say about me staying out late with my girlfriends drinking and gossiping away.
I mean, I told my dad over dinner in Singapore I'll join in the parties and he told me not to become too drunk but then contradicted himself when I said spirits are only S$3 and beer S$7 for two.
"That's cheap! Then buy more! Alcohol here is expensive!"
You get what I mean? My parents don't give me shit about drinking, so why should a half-baked boyfriend do that? Why would they need a boyfriend telling them when to sleep, what to wear and how to behave? My parents sure don't do that to me.
And those girls sleep by midnight. They barely eat. They're obsessed with how they look like. Comments on food and fat all the time.
We are different. I guess I realize I'm happier being who I am than being in their shoes. I've got all the liberties I want (within boundaries set by my mom) and in many ways, those rules are very reasonable. I
am
keeping my own passport now, for instance. Just that, I stay at home, and well, rules are rules.
I am grateful. And I should learn not to be so harsh and mean to myself anymore. I'm hurting myself the most, not people around me.
But it also means we're off-putting to the general Malaysian male. According to a guy who is the boyfriend of a close friend, he said Malaysian guys are either possessive or egoistic. They want a passive, docile girlfriend. And we're fiery hotpots. We scare them. We intimidate them. We're too much trouble, too much work, too high maintenance.
I guess sometimes, they're right when they say we're the choosy ones.
With the travelers I feel comfortable. This was the better trip by far, we made friends and exchanged contacts and shared many laughter and jokes. I don't have to worry about how I look like or that the first thing they're thinking is "fat girl". It's a huge release.
The earthquake in Taiwan downed some fiber optic lines so this blog will probably be published at a much later date (it's Dec 28, 9pm right now) along with the uploaded photos. I promised to send photos to people but I guess that'll take some time too.
Owh well. Like Steffen (he lost his luggage at the airport) said – you can't control a situation so make the most out of it.
I will always remember traveling is about the people you meet along the way. And I'm loving living it. It's great.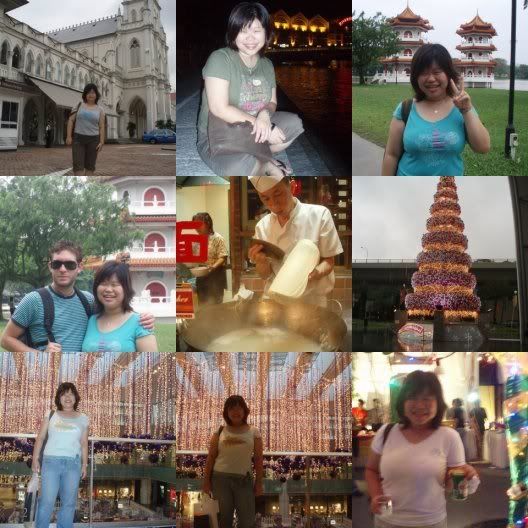 Singapore.
I've been bitten by the traveling bug. Oh, and, there's an Austrian guy who traveled through Australia and Bali who was bitten by bed bugs. I shit you not. His hands were all red and angry and itchy and he saw the doctor and had a flea bath and disinfected all his things and washed every single clothing he owned (including his backpack).
"I'm hating myself right now. It's disgusting. I can see little bugs falling out of my hair when I took a shower"
Lucky for him he was getting okay as the days pass by. It looked so terrible at the beginning.
*shivers*
Anyway, Singapore, over and out.
Next: Industrial Training in The Star on Jan 3.
Aiyiyi.
Comments:
Sportsnut218 made this comment,
that.was.one.long.blog ;) of course it took me a week to get around to reading it .. oops