6 Oct 2006Time
: 23:41
Mission: Singapore 1-4 Oct
Transport: Transtar Bus
Accommodation: The InnCrowd Backpackers' Hostel
People: Me, I and
moi
alone
Sunday October 1
Day 1
Okay. I woke up about 6.45am (about 30 minutes too early, according to mom) and showered and made sure I had everything packed, right down to candy, flip flops and a comb. Passport, check. Money, check. We went to Manjalara, had an early breakfast, and arrived at Pasarakyat in Imbi, as my mom predicted, almost 30 minutes way too early.
So, checked in, mom left about 8am, and I waited til 8.30am when I had to board the bus. Okay, for some reason, my bladder control seems to fail me, and when I have an urge, I pee. I learnt my lesson
very very very
well in China
when I almost peed in my pants
when I refused to enter a toilet because it's dirty. Pasarakyat's was...abysmal. But when a girl's gotta pee, a girl's gotta pee. Even if she almost vomited in the toilet.
Bus trip was uneventful (what can I say?) it's not heavenly comfy, even if it costs S$36 and there's a steward serving breakfast (which I refused) and water, and even if the seats have massage function (which, when used, makes the bumpy roads seem rocky, rockier or rockiest depending on mode 1 - 4) and the LCD screen I did not utilize and all I did was listen to my mp3 player. Seem such a waste of money eh, refusing all amenities the bus can give and of which I paid to use. And I was bored.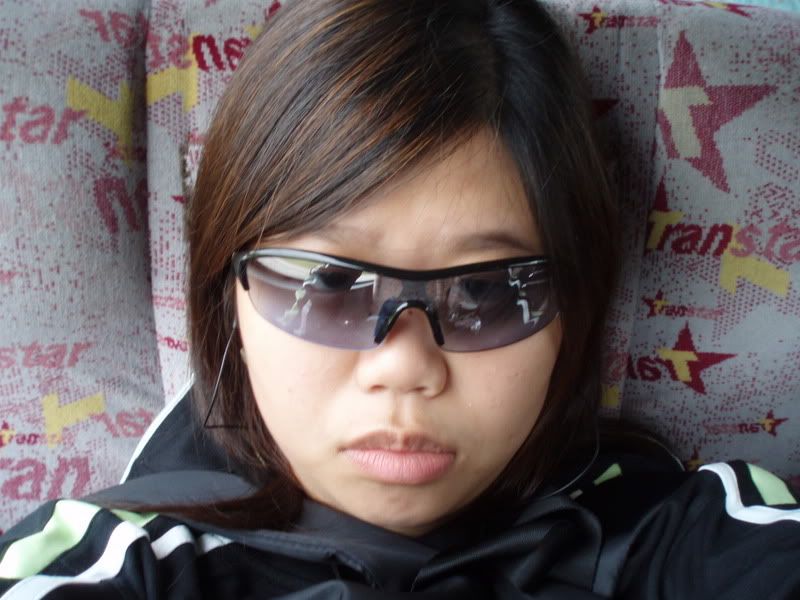 I think it shows.
Reached immigration (Malaysia side) about 1.30pm and embarrassment, I can't get my thumb scanned on our smart-chip-reading-machine. Exasperated, I went to the officers, who laughed and waved me through. Oookay...
Bus dropped us off at Lavender (and I found out later is also a bus hub) and for the first time I'm lost and in a whole new country and I don't know how to flag a cab in this new country. I stood back and watched a couple of
ang moh
s doing it. They just, well, they just flag one. So I imitated them. First taxi didn't stop. My courage faltered. Cab approaching. Oh, fook it, just wave madly at it. It took me right to hostel's front doors at $4.30. Very cool.
I admit it, when I entered, and saw the entire room full of strangers, and what more, white strangers, I'm intimidated. And the receptionist was terrible. She ignored me after asking what she can do for me, finally demanding to see my passport, ignored me more, and then deigned to check me in, and brought me to InnCrowd@Campbell which is 3 minutes away from the main InnCrowd@Dunlop. Yeah, two InnCrowd buildings. One I stayed in is the original, and the older one.
I'm happy with the arrangements. I got a bottom bunk, and the toilets and the shower stalls are small, but clean. Really clean. Of course, with a naked guy showering next stall, I swallow back a shriek when a small roach attempt to climb my left leg and instead, stamped til it dropped and mercifully run out of the stall.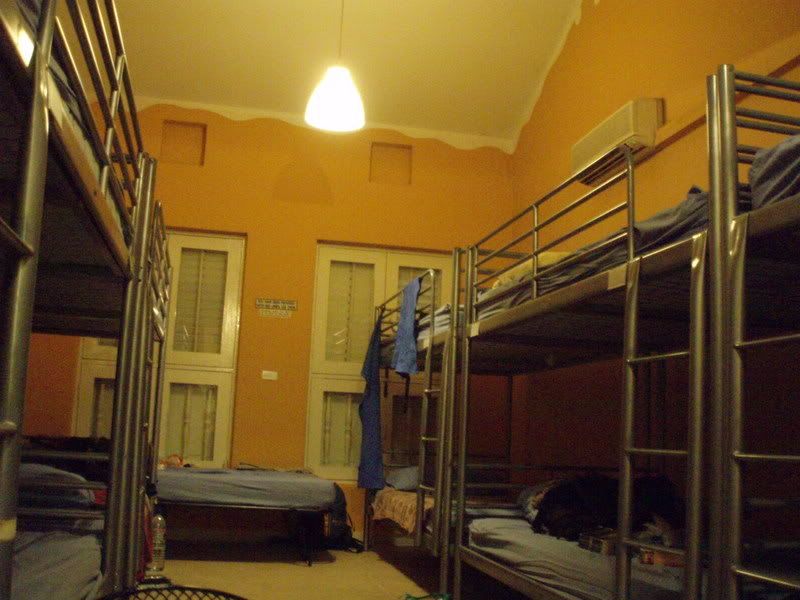 View of dorm from my bunk.
Right after I arrived, I met with Shirley, who brought me to places I don't even remember if it's not for photos:
Marina Square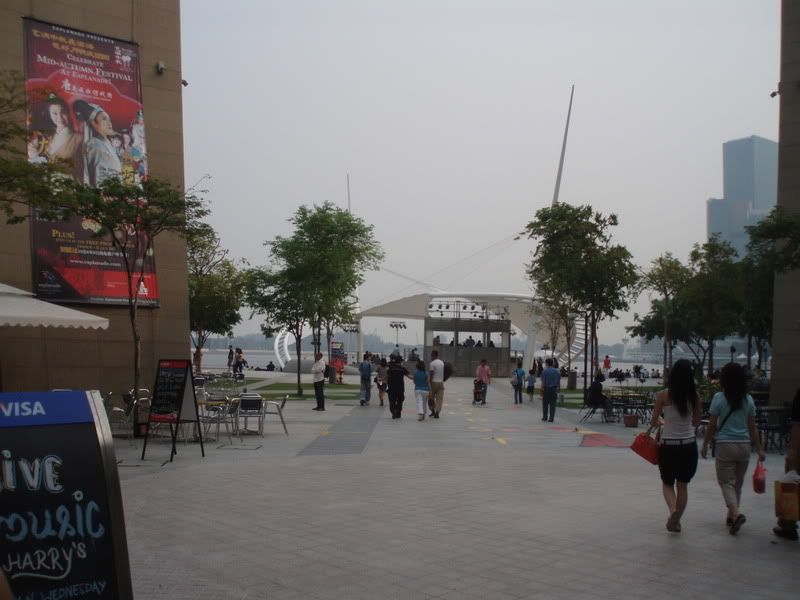 Esplanade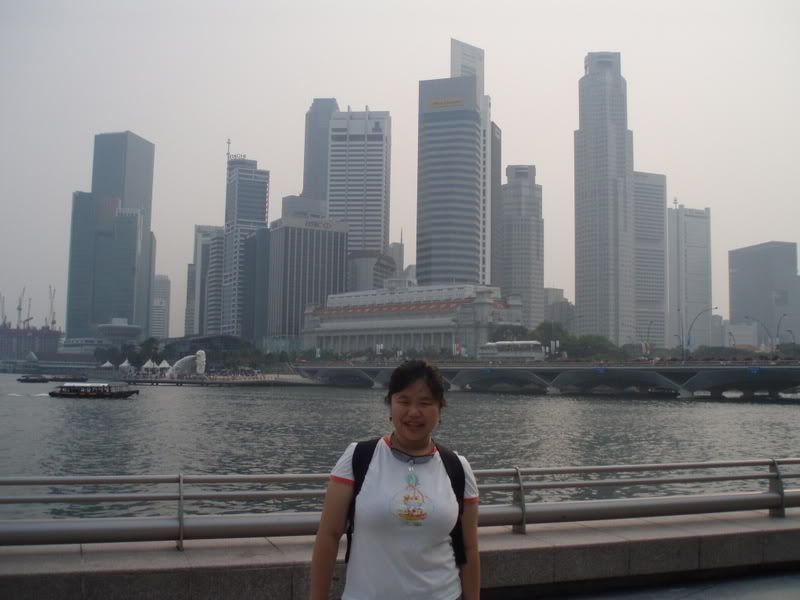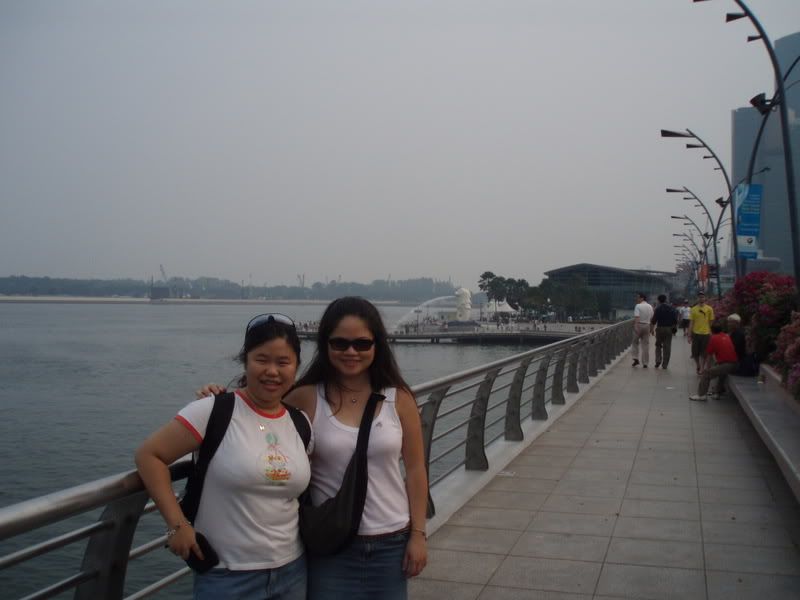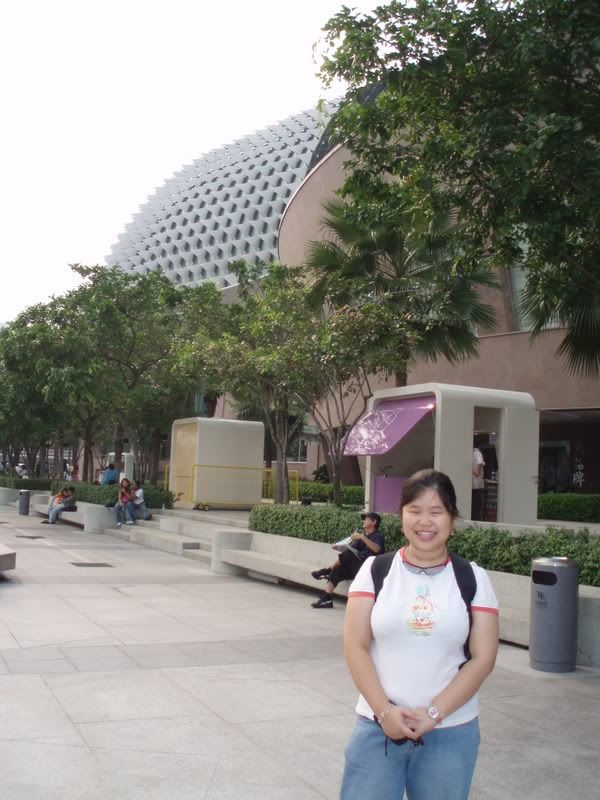 Mini Merlion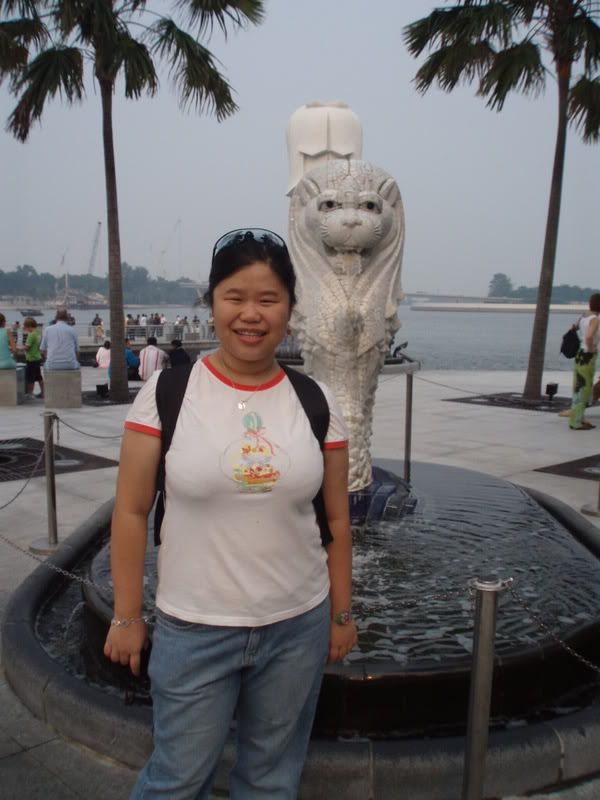 Real Merlion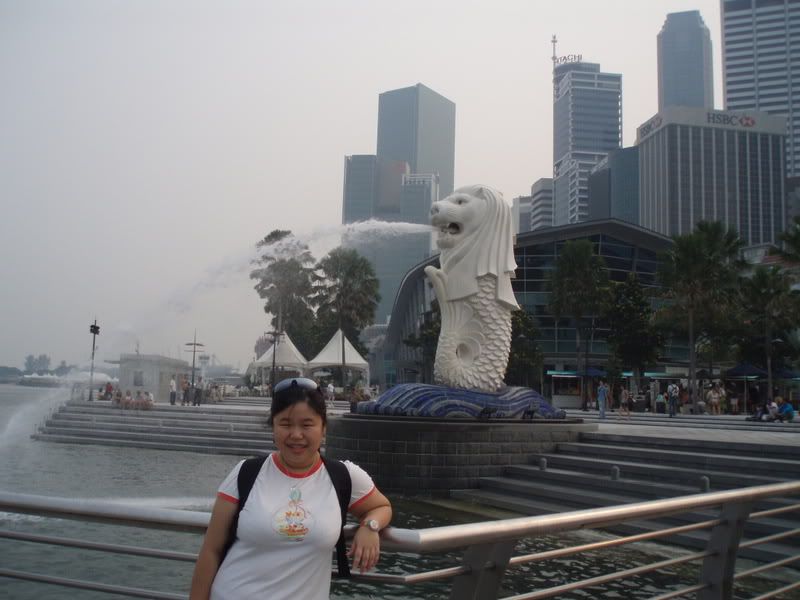 Quite a good view of Esplanade and the Durian (funny how in Malaysia we have Twin Corns and a Pineapple and in Singapore they made a Durian...)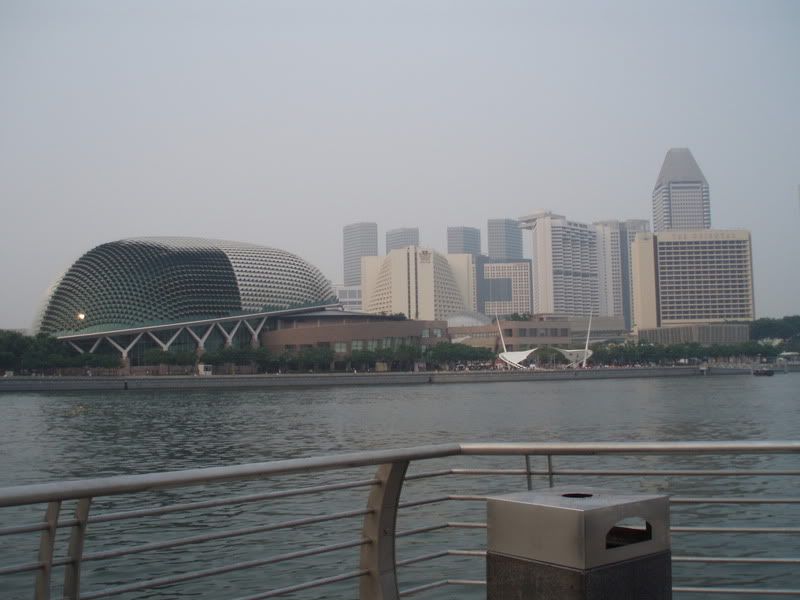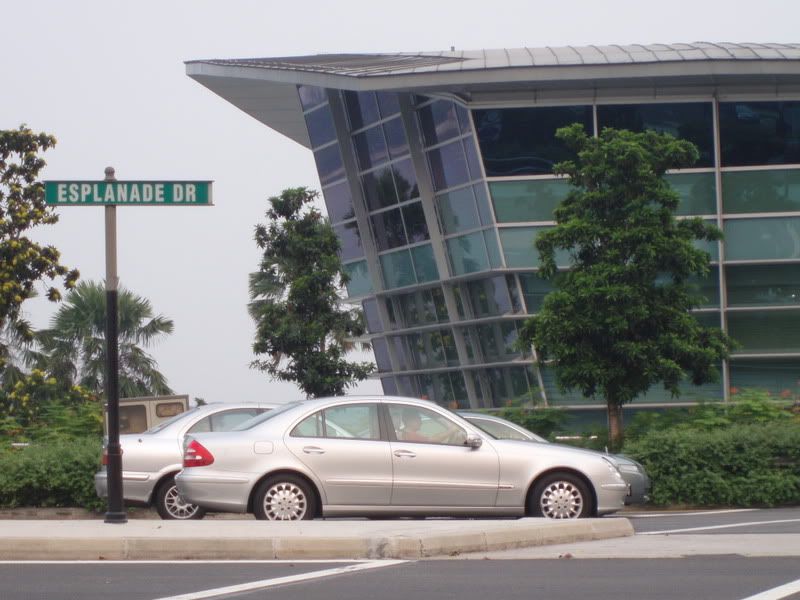 I
really
was here! Look, proof!
Boat Quay (pronounced like "key")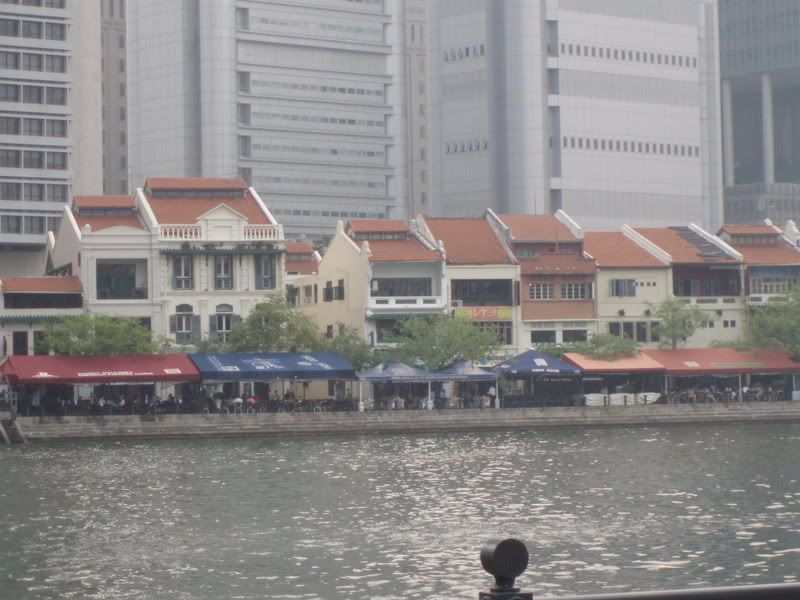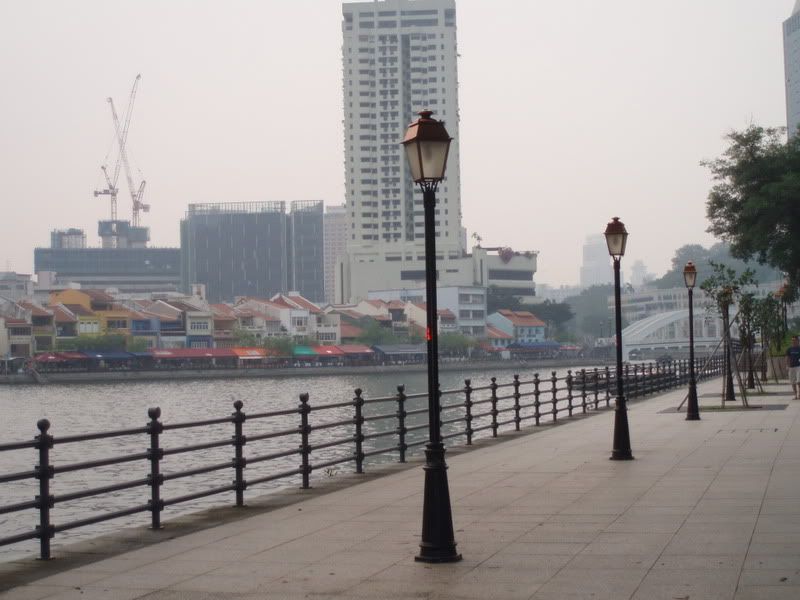 English guy with labourers from the old British Colonial Days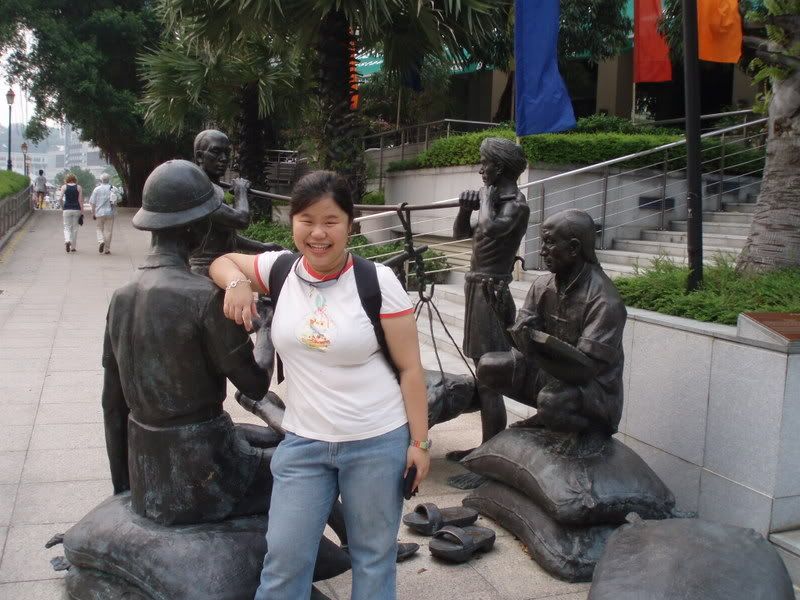 Statues scared me, I told Shirley if they start moving, at least warn me.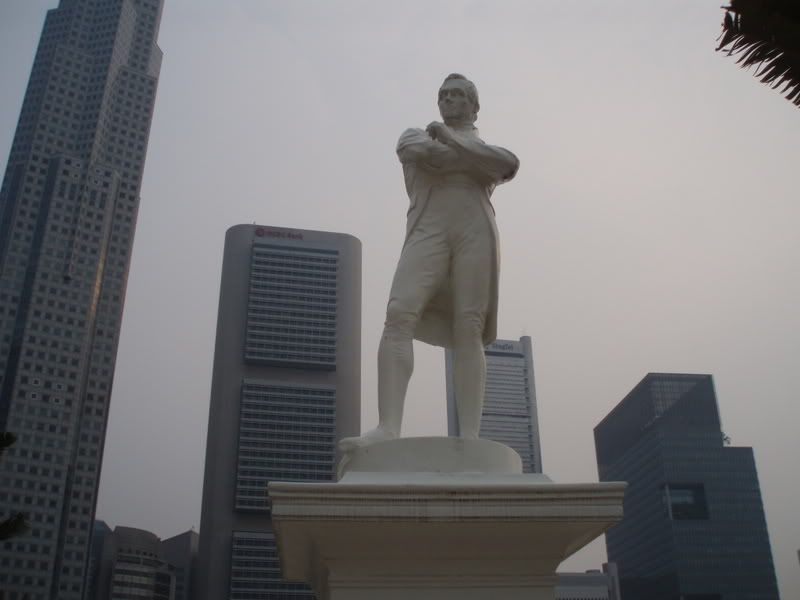 Sir Stamford Raffles, the guy who opened Singapore. Singaporeans hail him as a genius.
Not sure where is this...somewhere near Raffles' statue, and the courts I think...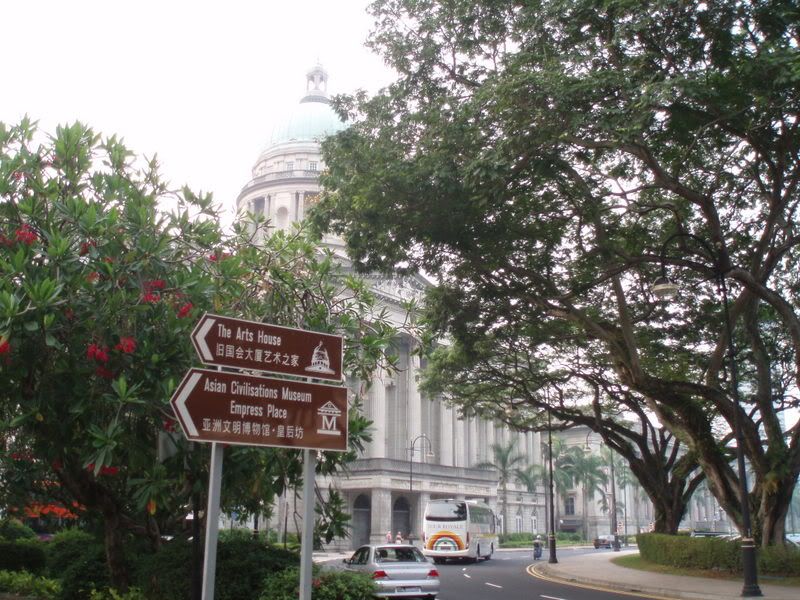 There, the road signs will tell you, ha.
Black Raffles (statue)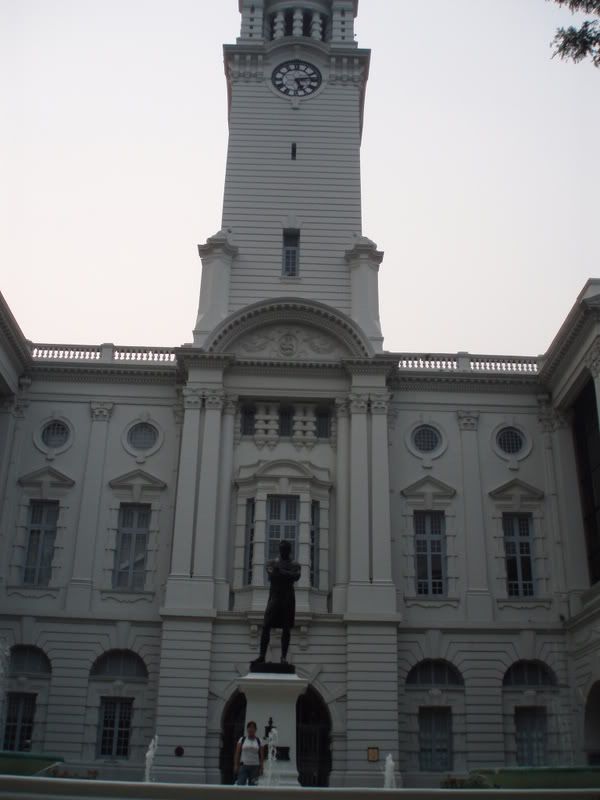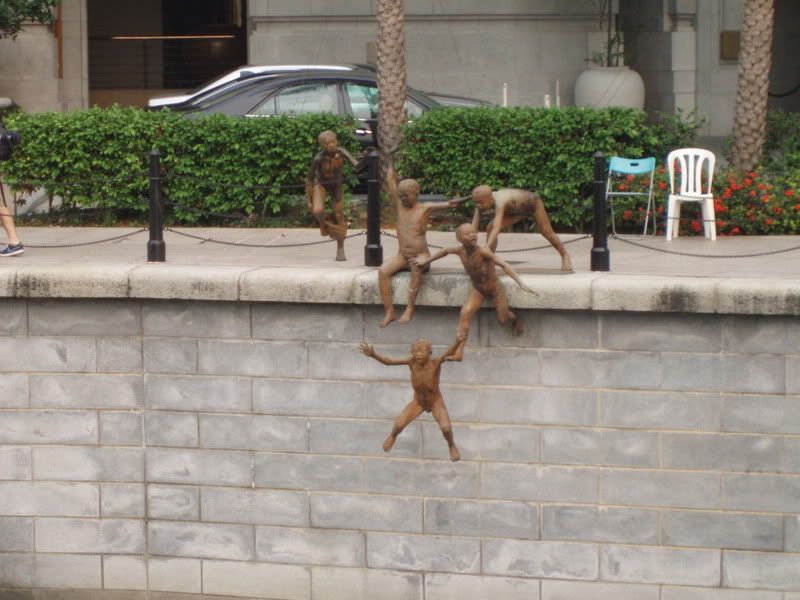 This pic is of kids supposedly swimming in the old days, but to me they look like mini orang utans...sorta grotesque, even.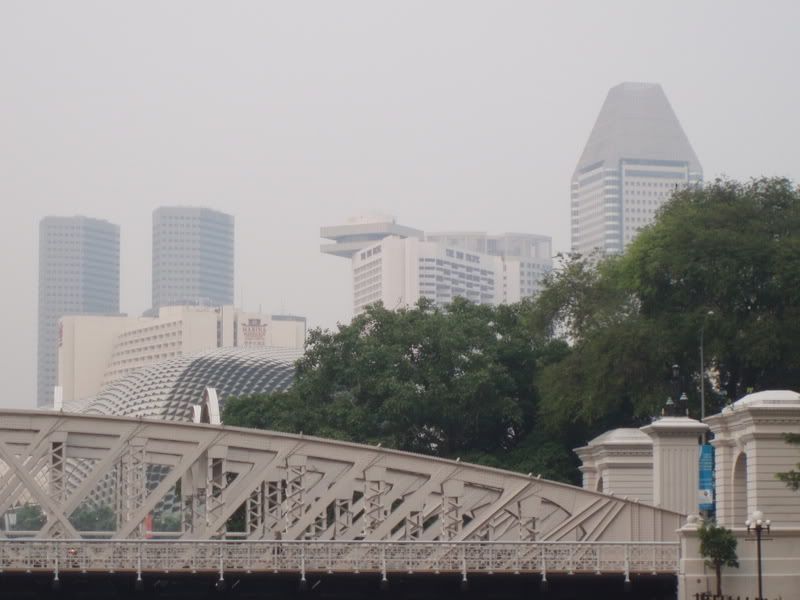 Hazy Singapore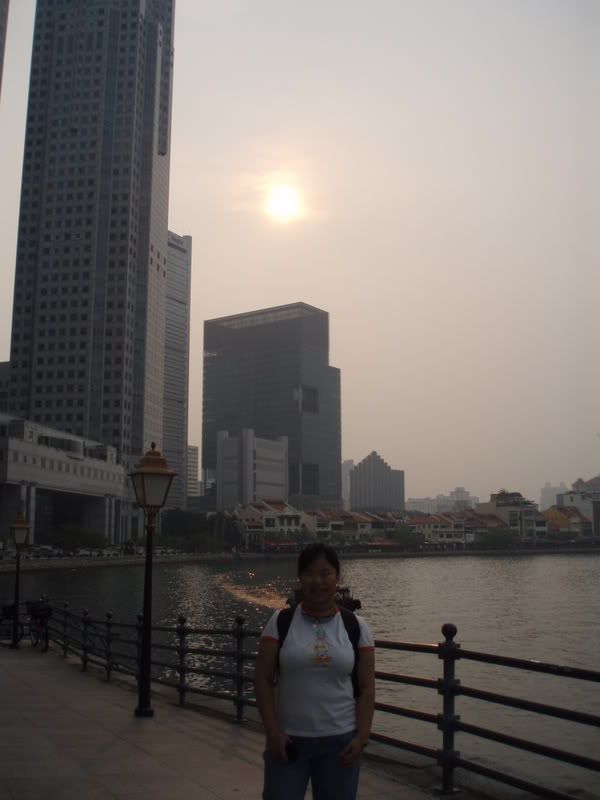 Beautiful sun down, isn't it?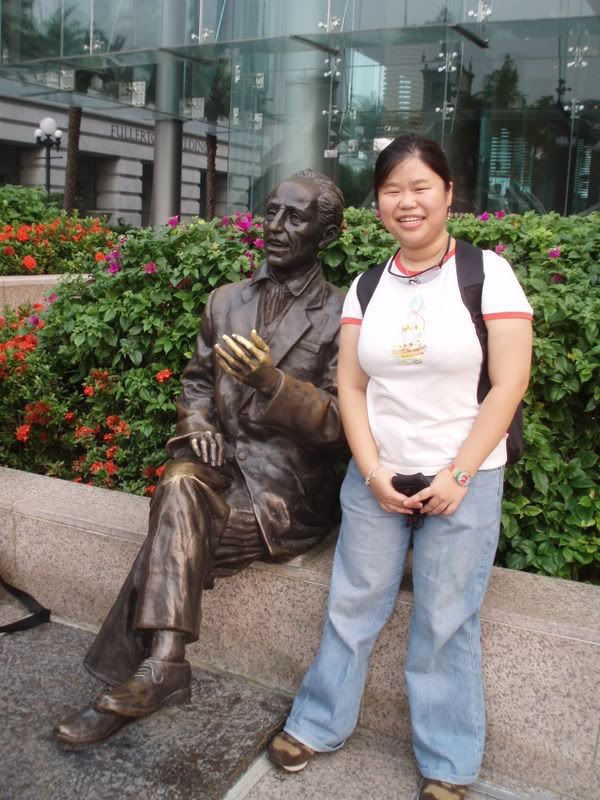 This is...someone. Apparently. Yeah. Talking to a Chinese, Malay and Indian statue(s).
Then we walked and walked and walked to Clarke Quay, where I think is more commercialized and touristy than Boat Quay (not that Boat Quay isn't) and then we visited the loo and it was so beautiful I took pics. I'm depraved. There is not many clean public toilets in Malaysia.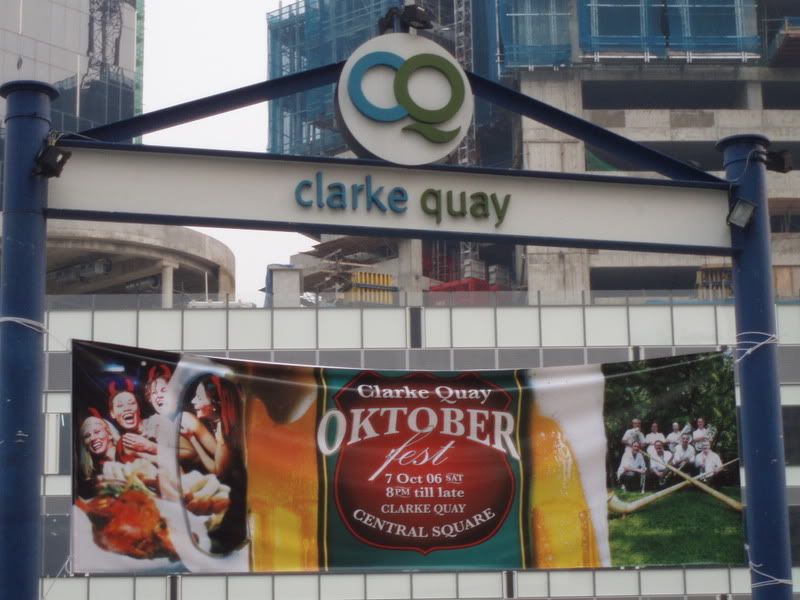 This is Clarke Quay, that is. Not the loo.
This
is the loo: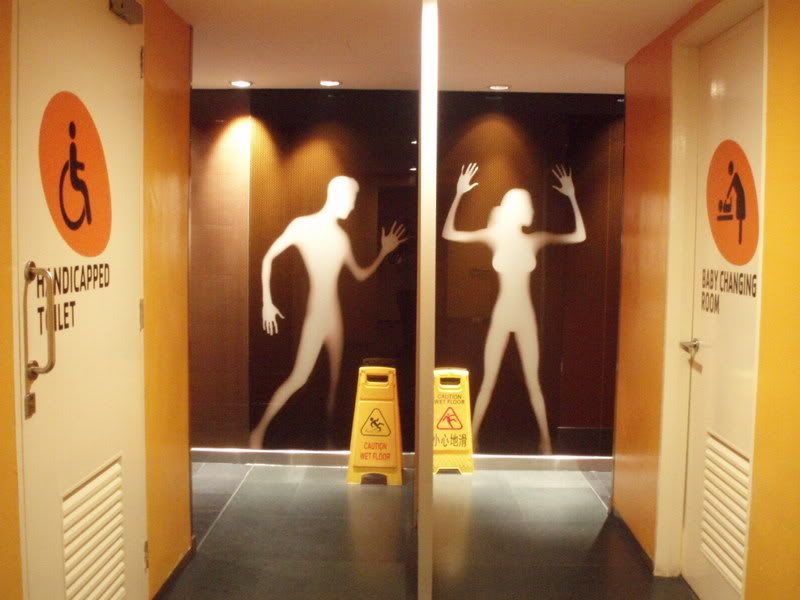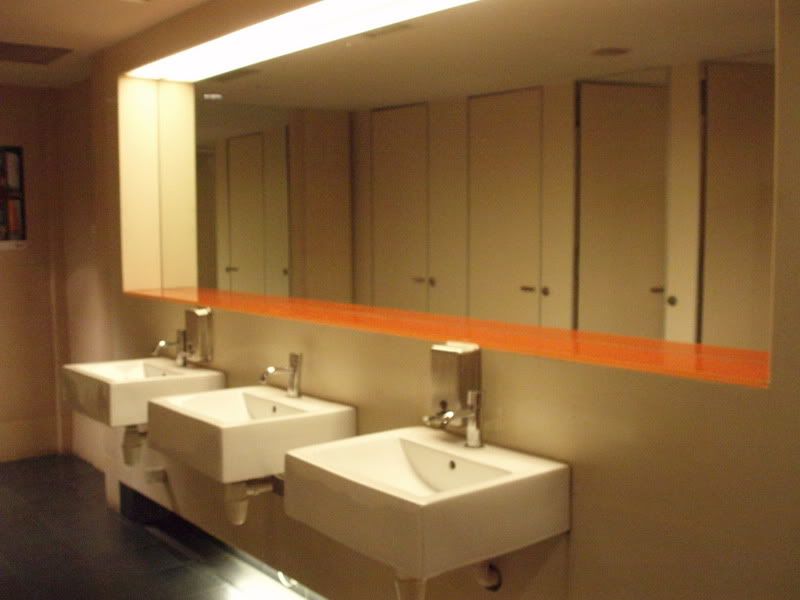 Shirley took me back all the way to Little India MRT Station, where I successfully made my way back to the hostel (so I'm not that terribly blur afterall!) and then joined the people from the hostel for a weekly BBQ. It was held at their own bar and pub called BarBaaBlackChic. Cute, eh. I paid S$6 for spaghetti, 1 sausage and 1 wing...and another $2 for a drink. Bleh. Most importantly, I get to mingle, though. I was shy, and so quiet, only listening and smiling and just being shy and we sat on this huge padded er, booth (that's as big as a bed, oy) with a small wooden table perched on the pad so people were crossing legs or sticking them straight out and I learn, to these white people, feet ain't that a dirty thing to them, ha ha! Eventually I start to notice this
CUTE
Brazilian guy (move aside, Kaka!) who's talking animatedly, and when people start moving off and leaving, we ended up sitting side by side. However, when he started uhm, I think it was hitting on me? I..dashed off. Yes people. I have no balls. Yes people, I regret that. Dammit people, I wish I answered his question coyly and cheekily instead of acting dumb.
Hits. Head. On. Any. Hard. Surface.
Not knowing what do to (not sleepy) I walked back to the main lobby where I went online for a bit (only 30 minutes but ha, they don't keep track! People don't surf that long cos there's only 2 terminals and there are waiting people though) so I just uhm, read a bit here and there and finally went for a (mostly) sleepless night, sharing a room with 15 other roomies.
Monday October 2
Day 2
So I set my alarm for 10am (oy makes no sense to wake up early) but people start packing and moving since 7am and my phone rang at 10am when my dad messaged and I replied I'll meet him at 11am, and his next text was "I can pick you. I'm outside your hostel now" and I was like, whatttttt! Damn, and run to do my morning things and dashed off and hooboy, who was downstairs cleaning out his locker? Cute Brazilian Guy. He said hi, and all I can do is stutter a "M-m-morning!" before I run off. That is the last I see of Cute Brazilian Guy.
Sigh
However, had a good morning and afternoon when dad brought me to Suntec City to see the Fountain of Fortune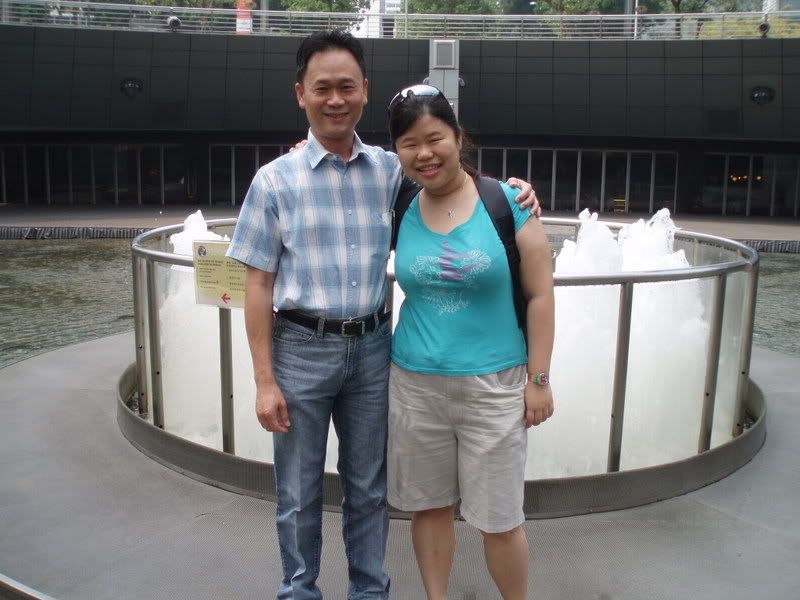 Use your right hand to touch the water and circulate the fountain 3 times and make a wish and your prosperity is guaranteed. Right.
My breakfast. Fish slice noodles.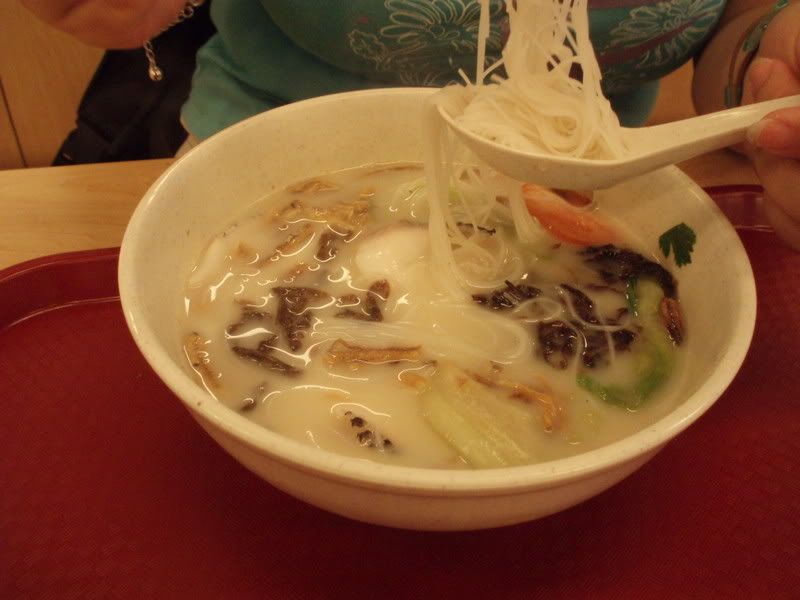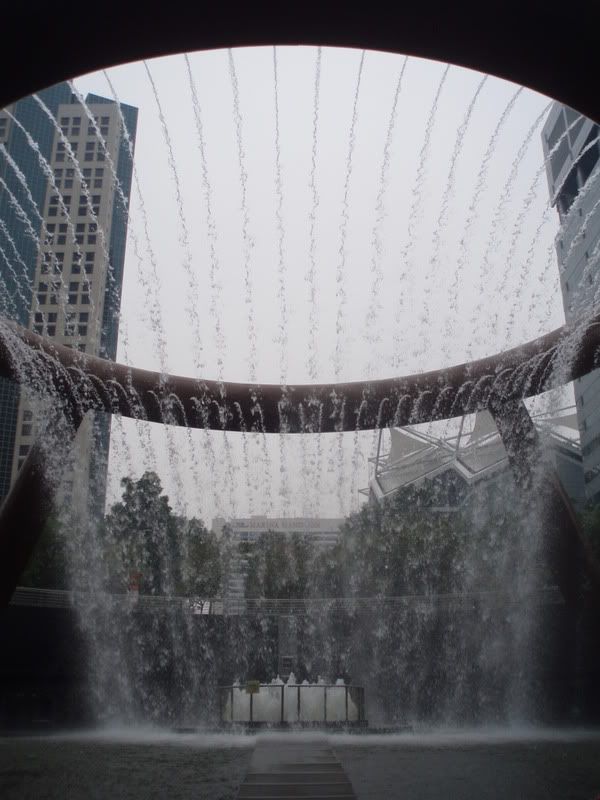 Here's the fountain at full blast, and it looks rather impressive, I must say.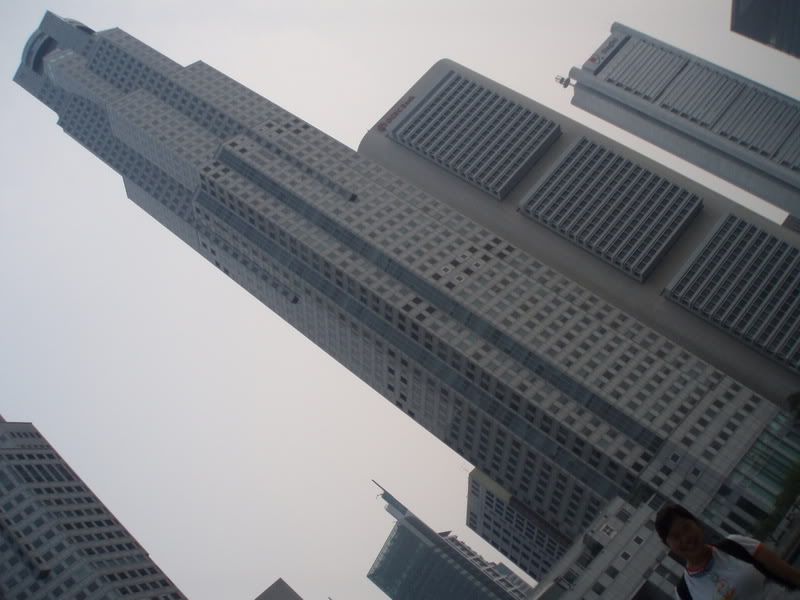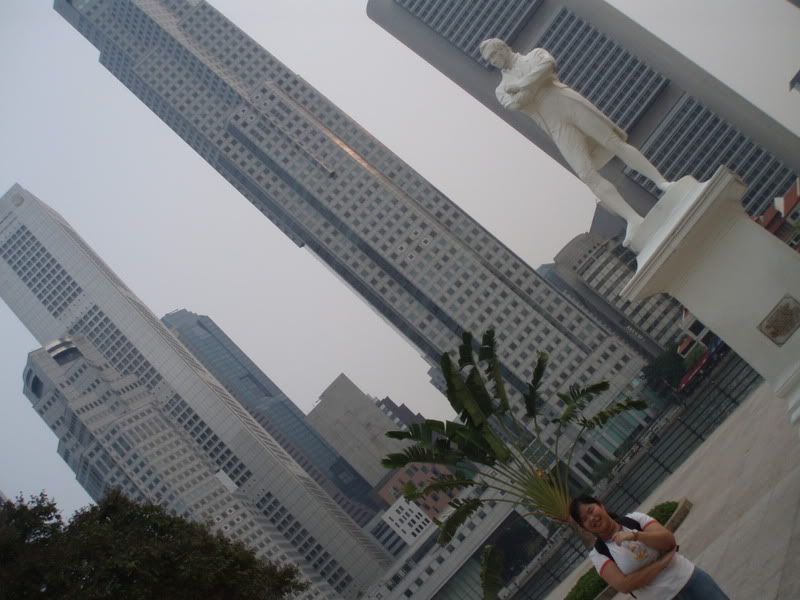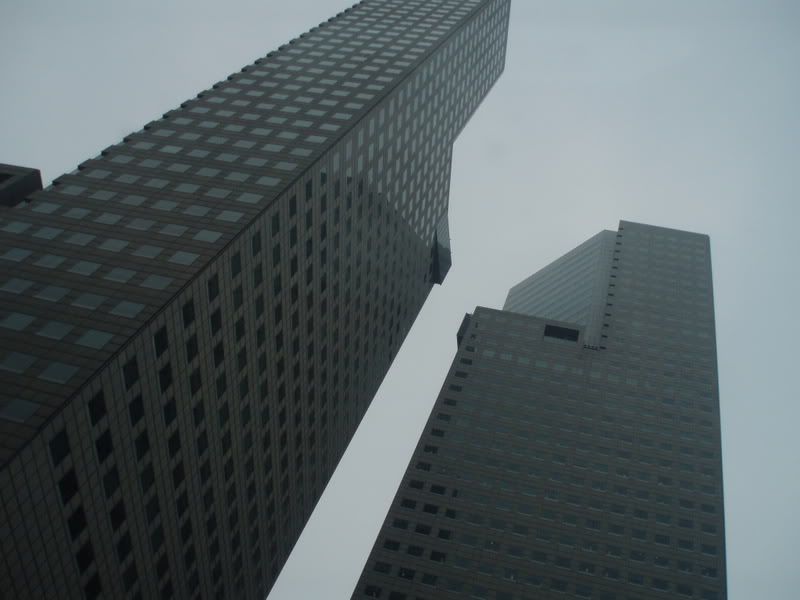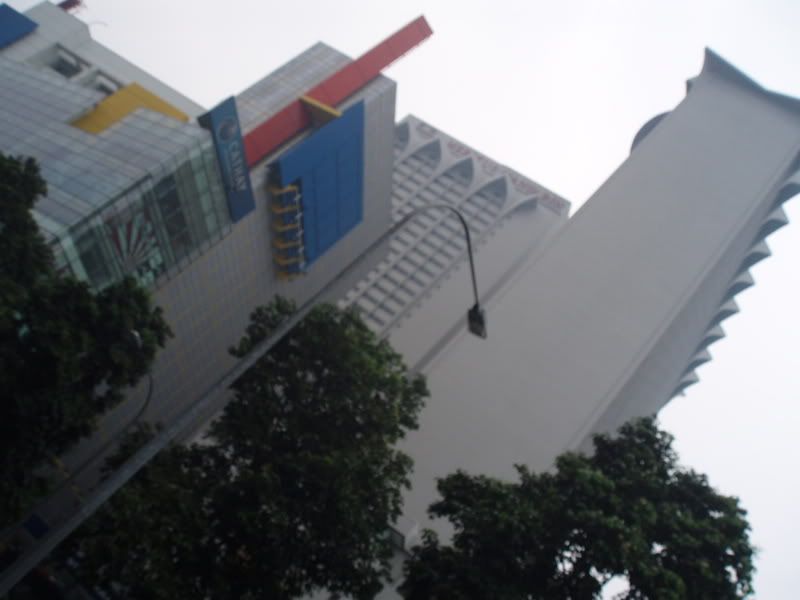 Skyscrapers of Singapore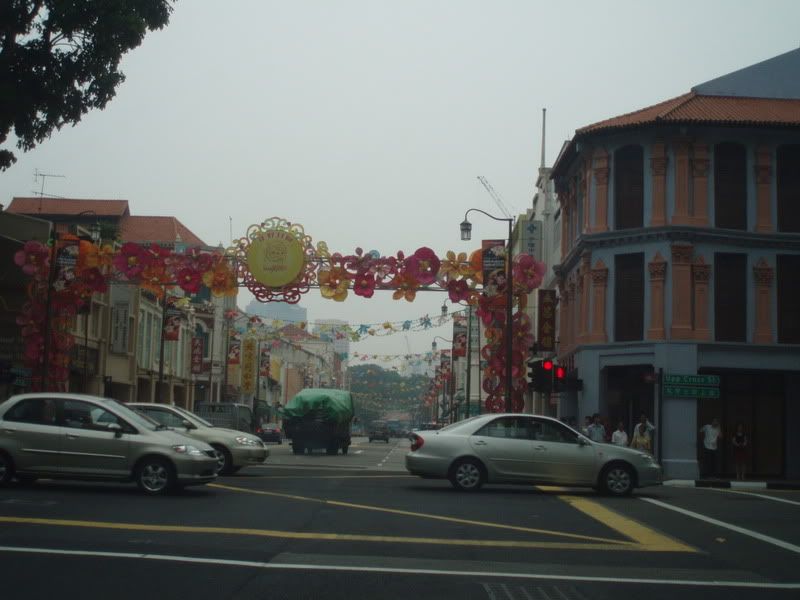 Chinatown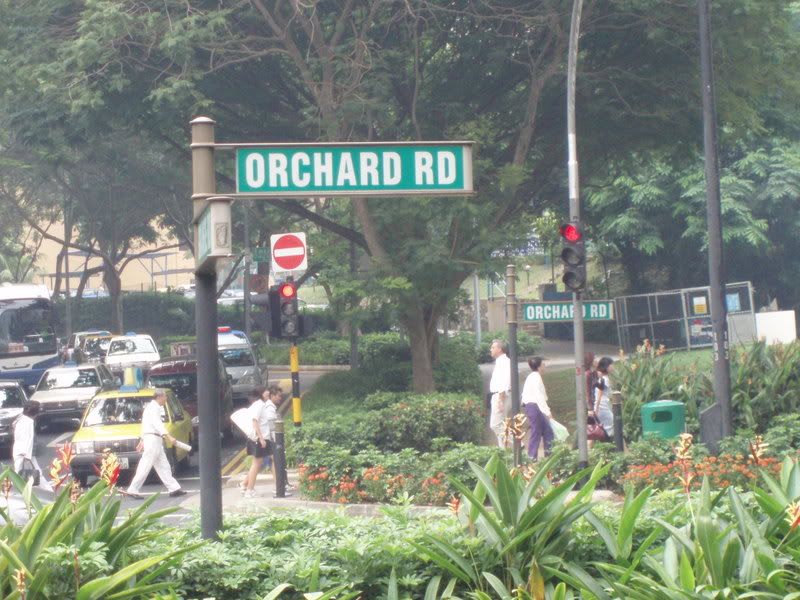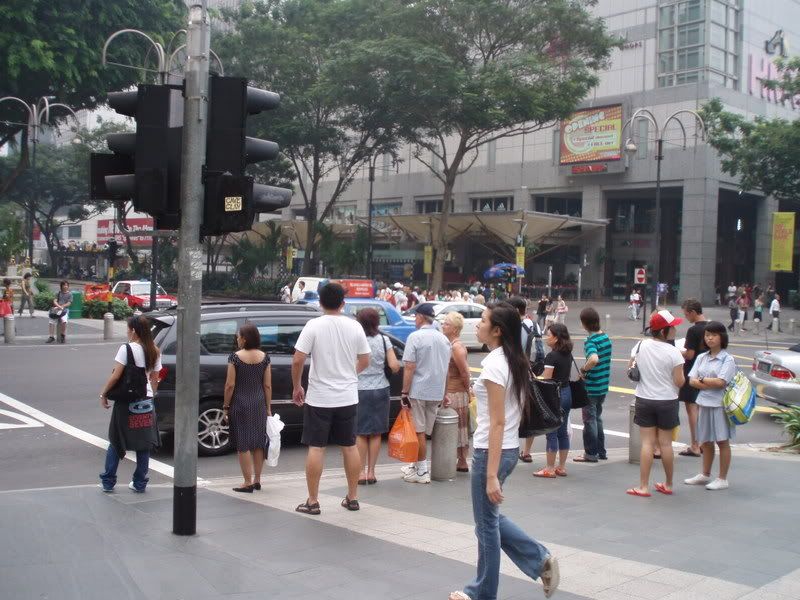 Orchard Road with Robinson's and all the expensive outlets and shops. To enter here by road, you gotta pay toll, which is fully electronic. It's called ERP, which, according to my dad, really stands for
E
veryday
R
ob
P
eople, another of his jokes, er, ha ha.
We went to have lunch nearby Chinatown where we had these 2 plates of absolutely delicious Chinese dumplings. I like my dumplings. Love dumplings.
However I told dad I'm tired and he sent me back to hostel about 2pm, and pointed out Tekka Food Court to me which is about 5 minutes from my hostel. I intend to nap, but signed up for the Night Safari (hostel organizes something almost every evening) and then ended up chatting with Nikhil from Nepal who is studying in Japan, Morgan (a girl) from Canada and Rasmus of Denmark. We had early dinner at the food court where Rasmus bought us some beer and then headed off to the Safari. And boy, it was the best part of the whole trip.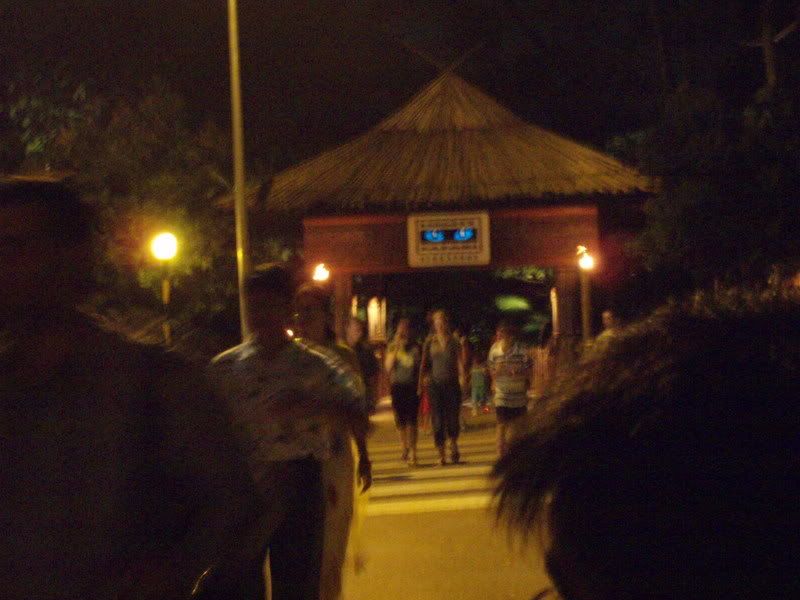 Its night time so most pics I took was worthless anyway but here's one of the entrance.
And of the tram.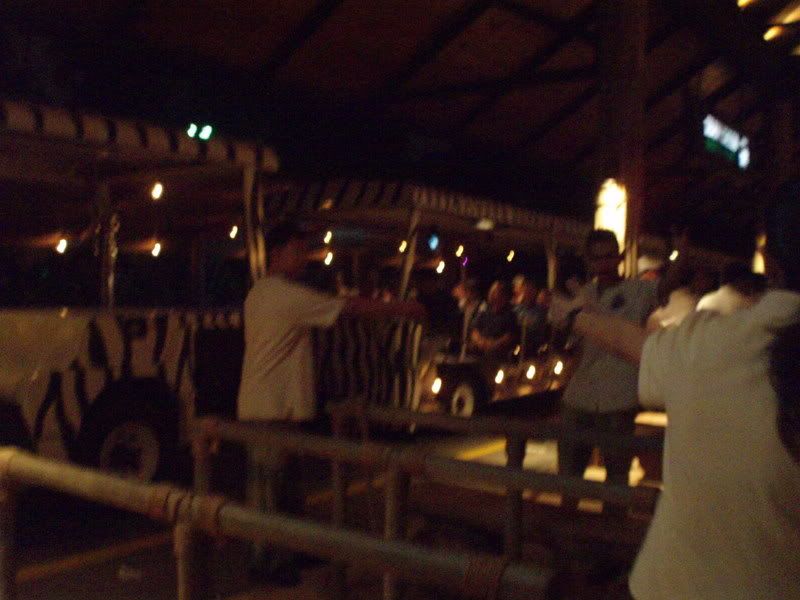 Eight of us went in a group, and at East Lodge, took a hella lot of time looking at animals, and went looking for tigers. We missed the "Creatures of the Night" show though, which is a waste but sheesh, next time.
Here: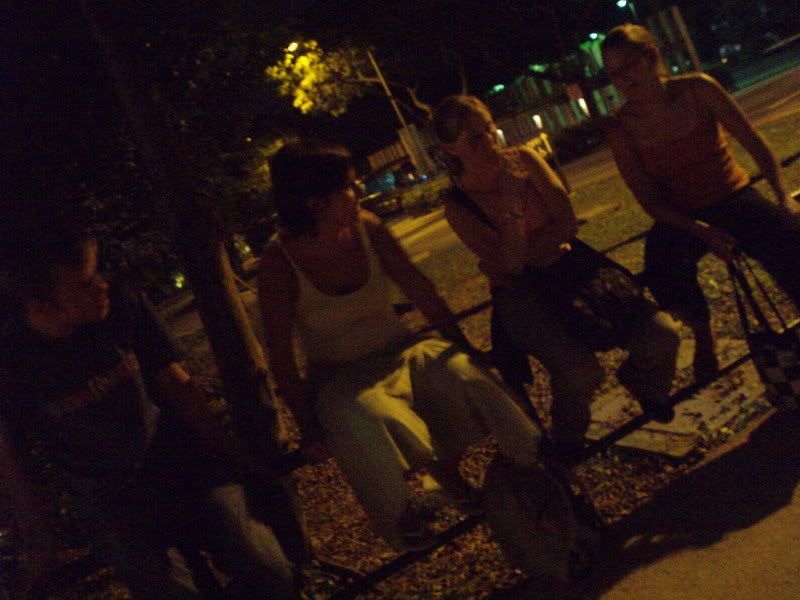 Denmark, Spain, UK, Canada.
There was also a guy from NZ, another from England and the Nepalese guy, of course.
We are well represented.
It was fun because Safari's cool. There were a lot of jibes around. We walked to the hyenna pan and this lil thing was walking back and forth, back and forth, pacing that one same small spot for like, 10 minutes, and they said it was distressed or bored, but to me it looked like a hyenna...poop moment, and before I can complete my thoughts, I was laughing cos he squatted and pooped and giving us the "can you leave me and my poop alone" glare. Then the tram went to really dark places and there were animals beside the roads and then we saw this figure and someone's like, "what is that animal?" very excitedly. And the figure darts onto the road and the someone said flatly..."Oh. It's a homo sapien".
As the tram pass by the lion pan, there was a lion perched majestically on a cliff and the guide in front of the tram said the lions are the only social cats and then a guy said, "Wow, for a social animal, he sure looks lonely", which is of course, ironic. And funny. The guide speaks in this high pitched, cartoon-ish voice which made the Brit guy laugh non-stop and me giggling til he told me "Stop! Stop!" and then when we pass by tiger, the signboard says "Tiger. Adopted by Tiger Balm". How...apt. Then we walked to the flying squirrels and they love us cos one flew almost to Nikhil's face, landed on the floor and walked over my feet. It was a freaky moment for all of us!
It was also fun because at that moment in time, we were companions, sharing jokes, laughter and even helped each other out. Eight strangers. From 7 countries. It's really, really cool.
We reached hostel pretty late where I watched some TV, went online some more and went to bed around 1am, where thanks to the creaks and groans from my bunkmate above, I spent another night sleeping not-so-soundly. And the aircond is freezing cold when I wake up in the morning. Freezing cold. Absolutely cold. Don't know how some of the guys can sleep in their underwear.
Tuesday October 3
Day 3
But by the third day, I admit I'm a little sick of the way people come and go in this place, where nothing is permanent, and of Singapore's weather. It is a whole lot more humid than KL is, and when I stayed outdoors, I sweat. As in, the just-showered look variety kind of sweating. It's not good to look at and I'm phobic about stinking myself and others. Yes, I am spoilt, lazy and not used to the great outdoors (much less wilderness).
So after breakfast (we made our own, 2 eggs and 2 toasts for everyone, and I had my leftover dumplings as well, and I went to the 7-11 next door to get juice, absolutely convenient) I sat around awhile, wondering should I get my bus ticket home already and then I finally did. I asked the snotty receptionist how to go to Golden Mile Complex (our equivalent to Puduraya) and she kindly trace the directions on the map and told me to WALK. Owh, Gawd. I walked right onto the highway before I realize I missed the turning and walked back and walked and walked and walked and met this...insane guy who stopped me and said "You're a very lucky woman, do you know why?" and moved on. I saw him stopping a corporate-type lady walking towards me and said something to her as well. As she and I pass by each other, she muttered "Crazy!" to which I enthusiastically replied "Yeah!". It took me 40 minutes to reach the Complex where I purchased my ticket and wondering should I waste money on cab and decided to, well, walk back. Of course, as I did, I went "darn you woman, darn you woman, darn you woman" for telling me it's within walking distance. I will walk THAT long in cooler climates, 10 times longer, even, but this is freaking Singapore!
However, I'd give them credit; Singapore is really walking-friendly. The sidewalks are wide, the pedestrian crossings are convenient and here,
cars really do stop for you
, unlike a certain place I came from. I wanted to laugh aloud when I was the only one crossing the street and all these traffic halted for me. For ME! ME! Ha! Ha! Ha!
Okay, so I had a lot of
sakai
and
jakun
moments in Singapore. Cannot
ar
?
After all that walking and sweating (I returned almost 2 hours later), all I could do was sit in front of the table fan, then slump onto my bed, sweat and all, and tried to grab a nap, when 2 big, buff Irish guys check in and one of them took my top bunk and proceed to make some noise with his sheets and rearranging stuff and...nap. It wasn't bad, except he's all of 200lbs and when he turns, the bed creaks and shakes. I smirked at the irony of which I can now tell people, hey, 2 guys slept on top of me.
Top bunk, get it?
Then when I drift off, a Swiss guy check in and took the bunk next to me and I gave up napping and walked over to Buffalo Street where I had my eyebrows threaded. All I can say is, ouch.
Ouch.
Then, I'm not sure, I think I went back to nap some more, and eventually, around 4pm, went for a meal at the food court (green curry and rice) and then hang out, reading at the main lobby til it's time to go out to meet Shirley. I noticed one thing though, giving out serviettes in food courts is not done in Singapore.
Funny, I went for a shower and I thought I was all alone in the hostel (a rare luxury) so I walked about with a towel and underwear wrapped around myself only, and after showering, I listened and it was all silent so I walked out with towel and underwear and then the toilet stall opened and a guy saw me and slam the door back and spent, like, 10 minutes in there. I nearly laughed out loud, in this place, guys are the ones freaking out (cos other girls of all sizes walk about in towels too) and girls are the ones making a lot of noise when they pack/unpack and sleep.
Not bad
leh
, I manage to remember how to change MRTs (after asking a nice lady) and looked for Shirley at City Hall MRT Station. She bought me a Japanese dinner then we went for a cup of tea and dessert at a coffee chain, name eluded me now haha. She say it's pretty popular in Singapore and every chain has different interior designs. We chatted til around 10pm, and then I headed back to Little India.
If you ask me do I not fear walking about in a place full of foreign Indian workers in an old part of Singapore, I'd tell you I feel safer there than I would walking in, say, Kepong Baru after dark.
I thought I'd empty my locker and pack quickly before lights out, so I did, leaving stuff only to use the next morning, then took my book to the main lobby and read some. But really, I ended up chatting about Malaysia and traveling with 2 Canadian girls and an Australian couple who're all headed to Mersing and Tioman.
We talked a lot, joked about public transport and make some jabs at the Snotty Receptionist Lady (she made them walk too!) and the Aussie guy freaked out when I told him about buses in China. His eyes literally...bulged. I feel bad. I didn't exaggerate, but ..anything to ease his fear, man. After they left, I read a little more (I am SO determined to finish Catherine Lim's Bringing the Wrong God Home) and then talked to a Japanese lady who's with her boyfriend who're waiting there for a flight back to Japan at 6am. They didn't pay for beds, each paid $6 transit fees which entitle them to all facilities, well, except a bed. There was also a very young Taiwanese guy, and a Chinese guy.
Wednesday October 4
Day 4
I woke up regretting I'm going home, but I know I'll return to this place (yes, I will) and at 7.30am, took my last shower there, packed most of everything and reminded myself to return the locker key to reception to collect my deposit of S$10.
People, I admit. I can't make scrambled eggs. Mine turned up to be this nasty, thick glop after I painstakenly stirred it for like, 30 minutes. The guy behind me (who caught me forgetting the front door access code, also same one who caught me with only underwear and towel) must be either being very disgusted or laughing at me inside. He seem to witness all my worst moments at the hostel, blah!
I had my yucky eggs, my toast, and half of my instant soup when I realize I should not drink much prior to long bus journey and throw the other half, finish my 1 litre apple juice from yesterday and made last minute rearrangement to my stuff, and saw that I had more than 40 minutes to kill before I need to go, and what dya think I did? Went online. But there's nothing to do so I read.
About 9.40am (bus at 10.30am, check in at 10) I bid a quiet, real quiet adieu to the hostel (no one even notices me going), and walked for like, 30 seconds before I hailed a cab, took the bus (yes, I peed at the complex before I need to get on the bus, and I peed at the immigration, yes I am now the take-a-piss-everywhere girl) and when I tried entering Malaysia, the machine can't read my thumb print (
again
) and again, the officer waved me through. Hey, sir, there's like, 10 pounds of crack in my bag! *Roll eyes*
Again, I didn't watch the tv, I ate half the fried rice, and managed to fall asleep and jolt awake twice. 2 hours into the journey, with a sinking heart, I realize my locker key is STILL in my bag, argh. And when I reached Sungai Besi, my phone rang, and you know what, I forgot to inform my parents I'm coming home today, ha. My dad was, um, offended I didn't inform him, and mom called and chided me for not telling
her
but I said I thought I'd surprise her, and I can take the cab and commuter back home. She said no, she'll pick me up from Pasarakyat. Heh, that made me happy.
When I got home, I emailed the hostel about the locker key, telling them my dad will be in town next week and return the key to them, and they say they'll return the deposit to him. It was done so quickly! So efficiently! I like Singapore, well, except the humidity.
I managed to mingle with foreigners for 4 freaking days. I traveled in a country I haven't been to for 10 years. However, there's still Botanical Gardens, Singapore Zoo, Bukit Timah, Arab Street, Bugis Street, Chinatown and Orchard Road to reckon with. Next time.
And I'm utterly grateful to Shirley for bringing me around and buying me meals. Oy I'll buy you meals when you're in KL okay? THANK YOU!
And also thank you to a friend who told me, since I need a change of scenery and away from home, to just do it, book tickets, room and go!
So now, I can say:
Mission Accomplished
.
Bah ha ha ha ha ha!
Comments:
sportsnut218 made this comment,
That's one hell of a long blog post .. but a good blog post :)
GenieOnTheLoose made this comment,
wow, that sounds so damn nice! I guess the good thing abt being alone is that it forces you to mingle with other people. don't know if i could go alone though; i'd be quite nervous! enjoyed reading this entry. yum
sephquartz made this comment,
woah you are so brave. i hate doing things alone, that includes travelling alone,but reading from your experience, traveliing alone dont seem so bad. now u make me feel like backpacking alone somewhere... ho hum. i think before we go europe all of us my try backpacking alone. i'm gonna try it one day soon. if i can tear myself away from work that is. oh haha.
nicely written journal tho, i enjoyed reading your quirky observation.
cheerios
Shirley made this comment,
glad you made the trip! see you in Sg/KL again! haha! :)
Jun Hoe made this comment,
Cool pics. And glad to read your experiences in Singapore there. Really trooper of you to be able to mingle and enjoy ur little backpack trip. Make me feel like engaging in one too..