20 Mar 2006 Time
: 16:19
Happy Birthday, Amelia.
And I blogged today because I promise myself, I would.
Handed in my resignation today. Funny, they never taught us to write resignation letters at school, in college or at university, you know.
It was not easy to put my fingers onto the keyboard to form words; I may have wrote it in 15 minutes flat, but I won't say I had an easy 15 minutes.
I don't want to resign...I did no wrong. I still love Swatch. I felt pre-maturely expelled.
It was the longest employment, my second employment, and first with official appointments, EPF and all. Started Oct 4, 2005, ends March 20, 2006. Nearly 6 months...and more than 400 watches sold from my hands. My sales for the first month was RM20k. In Dec skyrocketed to nearly RM30k, thanks to Christmas. The high I felt...although I still think the pay and commission sucks.
I don't deny I walked with heavy foot in and out of Swatch. I miss Swatch. It filled my weekends and my entire 3-month holidays, and now that I have weekends free again, I felt lost, idle.
I left a piece of me there, yo, and a it certainly have a place within me, reserved just for Swatch.
It's been a long road...perhaps one day it'll be continued. But, at least I went in and left amiably. Shake hands with the manager, wishing each other well. And thanking each other.
Will miss you a lot.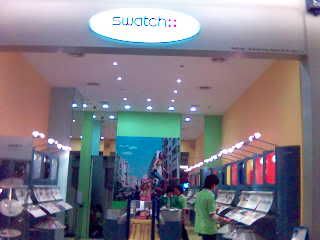 And yah struck me that day, songs that poignantly remind me of some place.
Swatch = Dying Inside To Hold You, Kungfu Fighting
TARC = Rocket (Ten Tenors), I've Never Been To Me (Charlene)
TARC year marks the year I do not listen to hitz.fm. At all. AS I ply through the roads of MRR2 and the horrendous traffic in Batu Caves, it was Light&Easy along the way, year round. It was a learning year for me, a year where I cannot stand loud hiphops and raps.
But now it's back to hitz.fm, alright...Happy to report as well, thanks to the money I earned in Swatch, been splurging around and most recent buys include a silver chain and pendant, and this TV series Medical Investigation that I got hooked to but did not catch the entire season.
RM60 from Sg Wang, I was apprehensive cos DVDs was never released in USA, what makes me think they will have pirated ones here...? But there is. The 2nd shop we walked into. God, no idea how happy that made me. Very happy. VERY very happy. I love my series. I love my friends who accompanied me there too. Thanks, LC, Gianne.