18 Jan 2007 Time
: 01:17
I'm tired so this is going to be short.
Someone crashed into my car yesterday morning.
About 50 metres away from Phileo Damansara entrance.
At 9am.
And I was thinking earlier on the way to work about me being accident-free for a while now finally.
When traffic was
so
congested, no one should be allowed to step onto the gas pedal.
This is my car.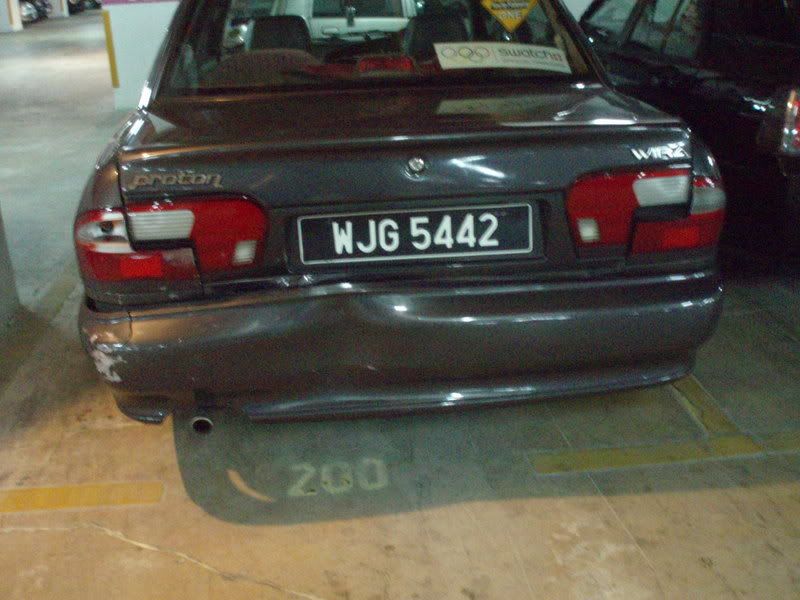 My poor, poor car.
At first I called my uncle and we went to PJ State police station and on the verge of making a report. She and husband called up to ask if we can "settle" it outside. We went to mechanic in Sri Damansara to get an estimation. Over RM1100. No way they're gonna pay us that much cash.
Then we met at TTDI and husband wants us to see
his
mechanic - turns out to be a spare parts wholeseller in Segambut. He took us the long, long way through Jalan Duta.
The costs of parts plus repairs almost 600 bucks. Husband broke down and admit they're willing to pay up to RM350 only.
Hello, Jose.
Take a closer look:
RM350? Impossible, can?
The rear light and signal light alone will cost nearly 300 bucks to fix! I can't even lift my car boot. And my bumper is cracked.
So, after all those tiring runs, back to square one. Police report, it is. Waited well over an hour (think it was nearly two) and bumped into lady-who-did-not-brake at the station, she went in and reported right before I did. Its disappointing to know I'm sitting outside waiting for that long when the cop handling my case is idling inside, smoking and bragging. When the cop looked at my report, he double-take(d) and then asked did the person who bang my car (hereafter known as "banger") just left. I said, yes, she just did.
He asked me to draw a map of where it happened and how, and then he considered it for a bit, and told me to follow him as he rush out to the parking lot. He stopped her from leaving (it's well over 15 minutes since she left the station) the parking lot, and I wondered why she was still there. He told her to park her car into a lot, and I knew she's done for: maybe she was still stunned, maybe she's not a competent driver, I don't know. But when she tried to park into the lot? Clumsy.
When he sat both of us in front of his desk, he asked if we will try to "settle" it and at this point other cops (who's supposed to be working, remember?) butted in with their jokes and remarks and nosey questions - related and
non
-related to the crash. I was asked if I'm married, if the guy outside with me is my husband and if I'm a reporter and from which paper.
WTF.
Then someone said with great humour:
Don't cry!
Like, ha ha ha ha!
Anyhoo, the cop warned her if she insist on reporting, she'd be getting a summons (or compounded). She agreed. So she admitted to being at fault, meaning I can safely claim her insurance to fix my car.
Not
pretty.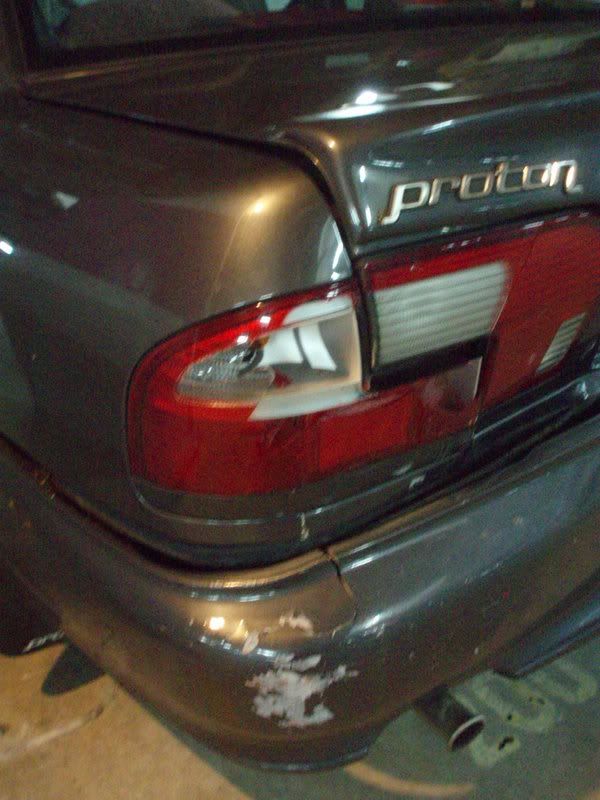 And when I stood to leave the station with my fake cute and shy acting, someone asked "
Eh, mau pergi minum teh?
(Hey, free to go for a cup of tea?)"
Cops.
sigh
Today I went to mechanics and my insurance company and I am now car-less...til Monday is the optimistic estimation. I switched my off days so that I have today til Friday off. But ...I don't have weekend and off on the 31st anymore. Life looks wonderful no?
But when buying copies of my report at the station today, I talked with a man whose son died in a hit-and-run. For some reason, I felt even worst. My case seem so petty now. He looked sad but calm. May he be able to get through this, wherever he is.
Car crash = no fun.
Comments:
Jun Hoe made this comment,
Hope your car gets repaired soon. Yeah, car accidents are bad news. And somehow as a new driver I seem to be attracting a lot of these bad news too. Just yesterday I was turning left into a mainroad, and suddenly a motorbike just tried to slipped in through my left. It was really narrow and I couldn't stopped in time as I turned and we collided briefly. He quickly nodded an ok and ran off. Sigh.. only noticed a slight dent in my car later.
My reporting experience in the police station was pretty ok, but yeah it can be pretty annoying. Take care yeah, and to many safe accident-free days ahead.
Sportsnut218 made this comment,
You have to *BUY* a report from the station? With all the technology in the world, the police station doesn't have a photocopy machine? ;) Just asking of course.