10 Sep 2006 Time
: 02:55
This holiday, I'm gonna, yep, re-do my room. I'm grown up! No more girly stuff!
Ha!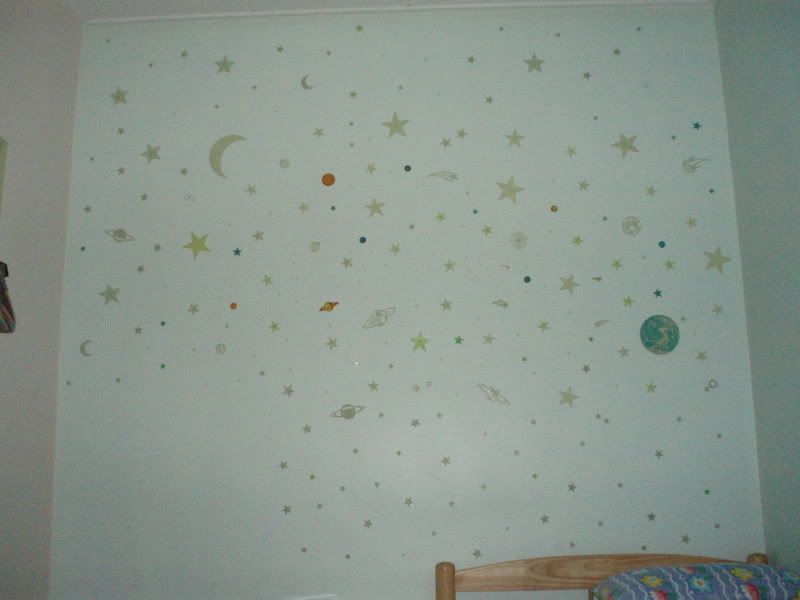 Glow-in-the-dark stars are coming down.
That stupid pinboard is moving.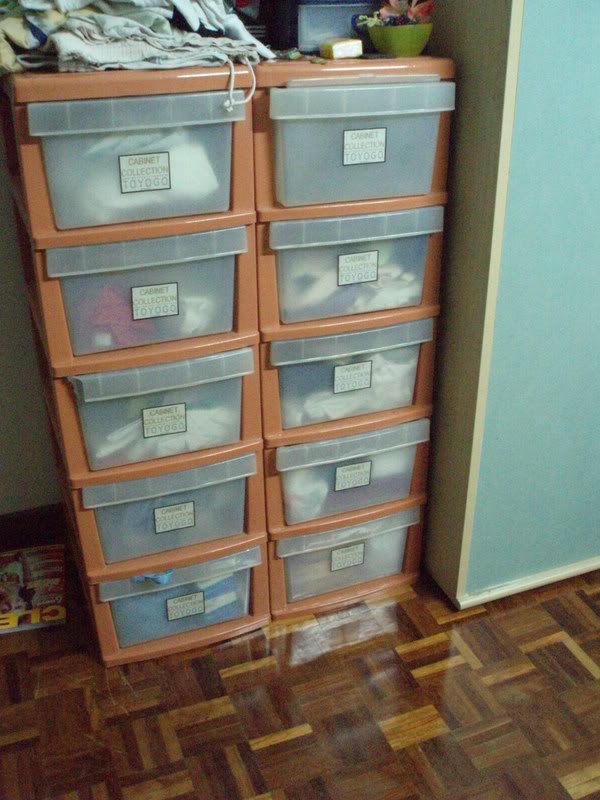 Probably wanna get rid of the practical-but-uncool Toyogo cabinets and get a nice wood one from Ikea.
Definitely a new bookshelf. Here, at the left side.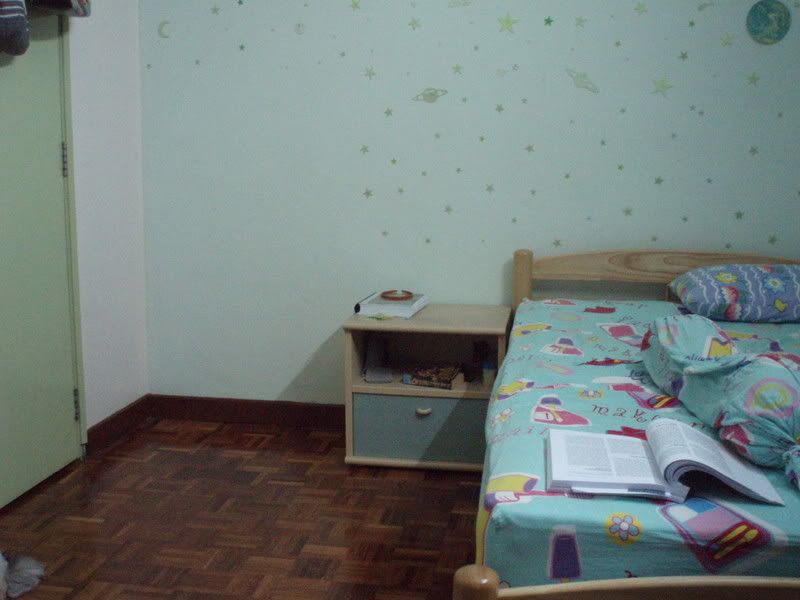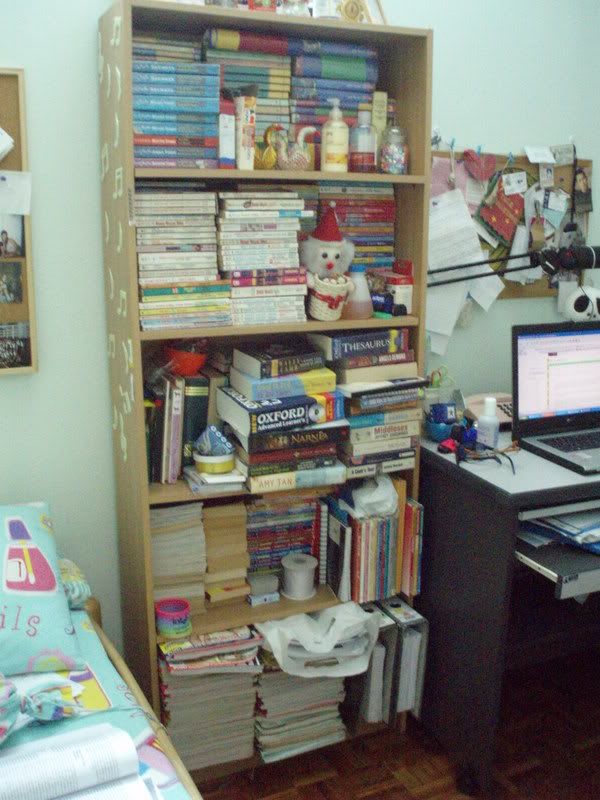 Cos "filled-to-the-brim" is an under-under-under statement to describe my poor overloaded bookshelf. Under-the-bed storage boxes for misc. stuff.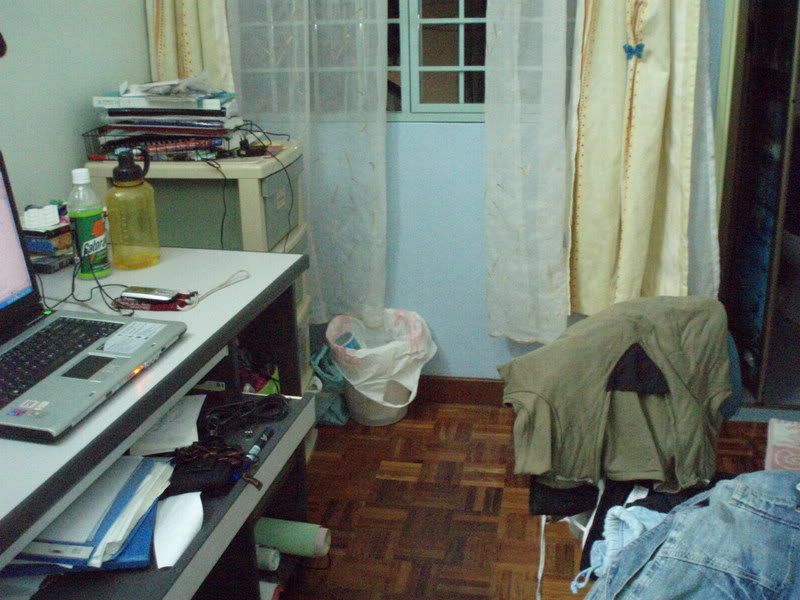 Also maybe another low shelf/cabinet to put under my window. I need storage, dammit.
If I get an L-shaped desk, it means I have space to work in, and also to be on my puter. But also no more rolling desk to bed, which I enjoy doing. But it will be way cool to have an L-shaped desk. What to do? What to do?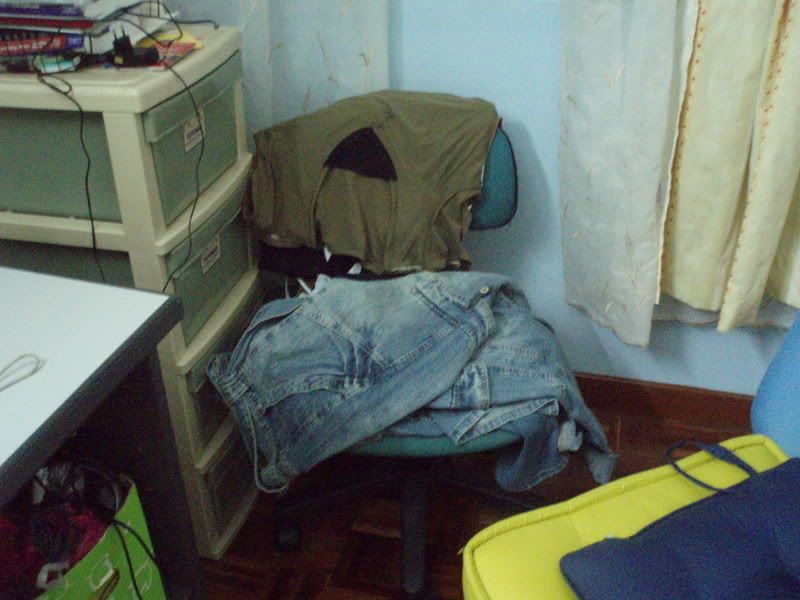 I'm working to get rid of my 2 secretary computer chairs (one I sit on but too low for my desk, my elbows hurt from placing them on top of my desk when I type on my laptop; the other has been my clothes hanger since the day I move in) and get a brand new, reclining, non-butt numbing one, and prolly frames or whatever to put on the wall. I need more electricity outlets (but more difficult to maneuver for this one) if I want soft lighting as well.
Stuff like candles, pots, art deco and all that are cool to place in room, but let's face it, dusting them will be a pain. I already am horrified with the collecting dust on my glow-in-the-dark stars, since they've been on the wall for, er, 19 months now?
Just that I've been stuck with the same furniture since I'm 11, and yeah now I sorta appreciate dark wood and eclectic or Balinese style stuff and yes I've watched one too many episodes of Queer Eye for the Straight Guy and fantasized too much about Ikea. My room has no theme. It is just a practical room. The kind that make people ask "You live in a dorm?" when I go on webcam. Impersonal.
Wish someone will call up some tv show for me to redecorate my room and then *surprise* me and I'll go boo-hoo-hoo over my new ultra-country style/modern/whichever (but please no fairy princess theme) and then secretly smirk and cackle cos I got free stuff to the boot.
Seriously, something small make a HUGE difference. Like the mirror in the bathroom.
Before I change it it was boring. The previous owner tiled the toilet in beautiful blue-themed tiles ceiling-to-floor (green in mom's room, pink downstairs), but stinged on the mirrors and put plain ones.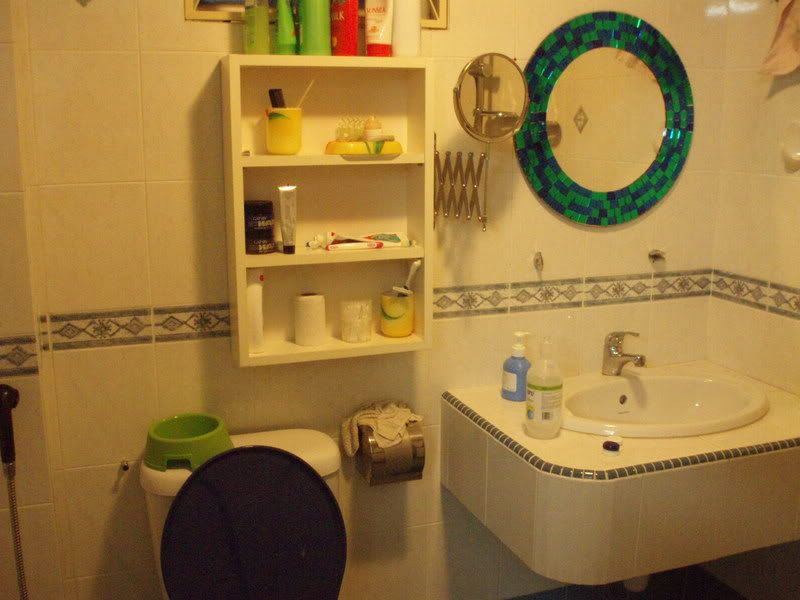 Then I got the aquamarine tiled round mirror from Ikea and put in and the entire blue color of the bathroom lightens up.
Yeah, that's a dog bowl on the toilet bowl.
Dog sleeps in my room.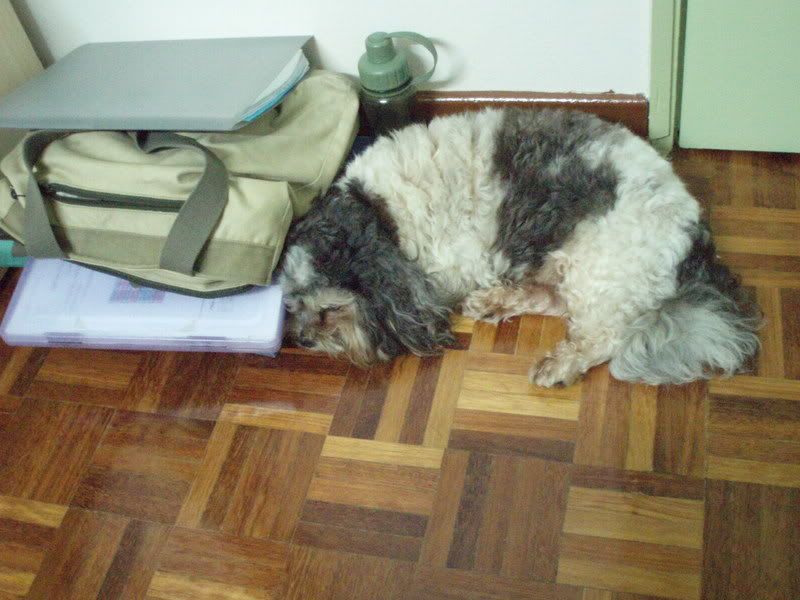 And mom says since he get thirsty sometimes, put it there just in case. Geez.
Okay, I gotta go back to studying now. *Sigh* I still have hurdles to go before I can think about my room again.
Comments:
dave made this comment,
Some things changed is good :) Go with a more adult vibe :)
melia made this comment,
what the? i WANT a fairy princess theme! did you say that cos you know I would want one? HMMMMMMMMMM??? XP
I still want my room to be girly la. Does this mean that you're maturing faster than I? Cos..cos...if I get like a mature room, it'll totally clash with my recent blog which states that i wanna live in neverland where nobody grows up.
waahahahha i'm crapping.
you're awfully free to put up pictures for a person with looming exams. heh.