21 Jan 2005Time
: 16:35
Mood
: Gleeful
Went to 1 Utama with mom this morning, to shop for some new household stuff (pegs, plugs, lightbulbs, you get the idea...) and new shoes and handbag for her. And a new CD, wallet and watch for me! Yay! I've been wanting them for a long long long time, you have no idea how devastated I was when my Olympics Atlanta 1996 Special Edition Swatch broke down....and I have no idea how long ago it was when
that
happened. I'm so used to watchlessness now, that wearing it seem a bit awkward. And there was a time when I'd never leave home without a watch, and complete with watch-tan line on my wrist.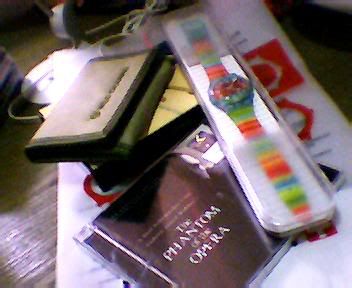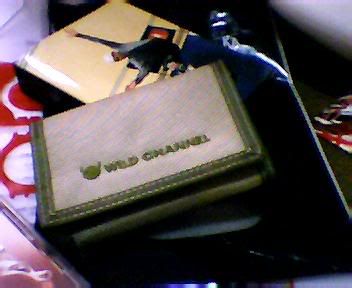 1. CD, wallet and watch.
2. Wild Channel green wallet, courtesy of mom. RM36.90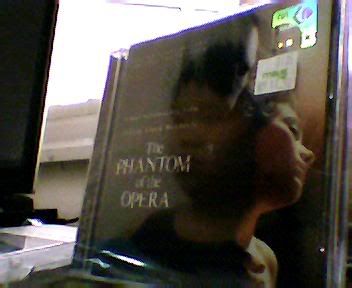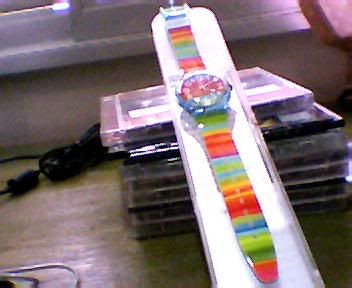 1.
Phantom of the Opera
original soundtrack. Been scouring Selayang Mall and Alpha Angle for days and days and days! They don't have it there. WTF. Finally got it. RM44.90. (Opps it's my silloutte that you're seeing in the CD. Don't freak.)
2. Color the World Swatch! This one is a real surprise - we were passing the Swatch shop and mom just pointed inside and said, "Well. Get one." I was like, "Oh my God! You serious?!" and dashed in before she change her mind. RM170.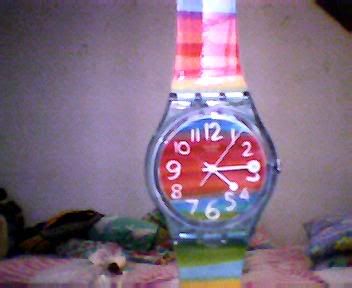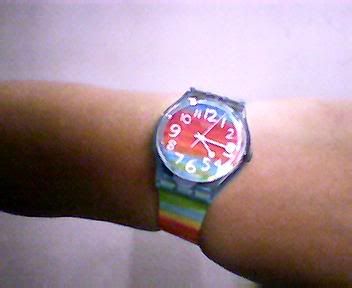 Love it! LOVE it! It's so colorful and sweet! Love it! New watch! Finally no more checking handphone for time! Love you absolutely love you, mom.
*Grins goofily, doofusly and dreamily*
People mountain, people sea as the Cantonese say. 1 Utama on a public holiday that is. I'm so crowd-phobia now. Ugh! Jostling isn't my favourite sport for sure.
Comments:
Jun Hoe made this comment,
Heheh, wah make me so jealous only. Got so much new stuff. Now can show off a bit when you go out. Damn! Kidding. Sigh, make me feel like go shopping for new stuff too.
A visitor made this comment,
Booyah. you know what?! I wasnt reading the picture captions initially.. and i saw the cover of the cd, and i was like, wtf... it looked like this lady had two heads stickin out, and one of the head looked asian! Serious. Was like wtf-king again.. until i read the caption and.... lo and behold... its your reflection. *pfft*
LPShean
A visitor made this comment,
arghhh...im so jealous~!not because u have a new watch...because u have the p.o.o cd!ok,im gona buy it!but im in ipoh,wonder if they have it here?
sigh..neways,enjoy your holis,k?was really fun being yr classmate this sem!!
tammy
Amelia made this comment,
I wanttttttttttttttttttttttt!!!!!!!!! I was poto soundtrack!!! I want i want i want i want!!!*STOMPS AROUND LIKE A BABY ELEPHANT* I WANTTTTTTTTT!!!!!!!!!!!!!!!!
Ho-wahhhhhhhhhhh new watch ahhhhhhhhh?????? New wallet ahhhhhhhhhhhhhhhh??? Yay!! Me want see!!! Me want see!!!
A visitor made this comment,
i like the watch!! me want one too...yeerh, u got the phantom ost, i want that one too. i still havent found it around here, i plan to get the pirated one from good ol' ah keong. i know, cheapskate ;Þ enjoy ur hols! cya =)
yook hwa
A visitor made this comment,
You should get The Phantom of the Opera Original OST on Broadway. It's much better than the tracks on the musical.
Mei [meiteoh@gmail.com]